This is a picture: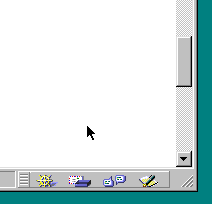 Sometimes a page is longer than your screen.
There's a "scroll down" arrow at the bottom of your screen. It's on the right-hand side, and it looks like this:

.

You use this arrow to go down the page. To go down the page, click the arrow with your pointer. When you click and hold the button down, you move down the page. (This is called scrolling down). To stop scrolling, just stop holding the button down.

Scroll down this page.