E-Mail

(c) Bill Pellowe, 1998

Contents
Reading E-Mail Addresses
Here is an example of an e-mail address of an Aso student.
985555@asojuku.ac.jp
Here are what the parts mean:

| | |
| --- | --- |
| jp | This person is in Japan. |
| ac | "ac" means "academic". This person is at a school. |
| asojuku | This is the name of the main computer. Aso Juku is our computer's name. |
| 985555 | This is the user name. Your e-mail address will have a different user name. |

Teachers at Aso have their real names in their e-mail addresses. My address is bill@asojuku.ac.jp
Your E-mail Address
Write it here: _________@asojuku.ac.jp

(your user name)
---
Saying An E-mail Address
If there are words in the address, you can say the words. If not, you spell them.

asojuku = say "Aso Juku"
ac = say "A, C"

@ means "at". Say "at"
The "." is a period. Say "dot".

So, for 985555@asojuku.ac.jp
say 9, 8, 5, 5, 5, 5 at Aso Juku dot A, C dot J, P


---
E-Mail Setup
This explains how to set up your e-mail. You will have to do this every day.
| | | |
| --- | --- | --- |
| First, click Edit, and choose Preferences. | - | Click the + sign next to Mail and Groups. |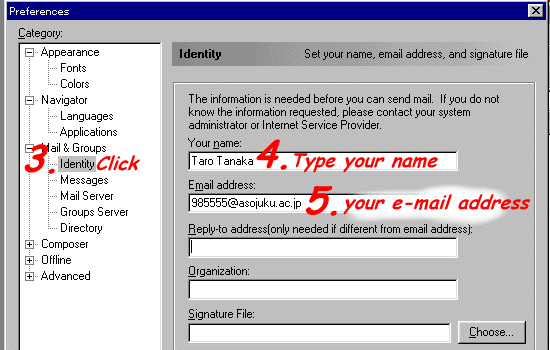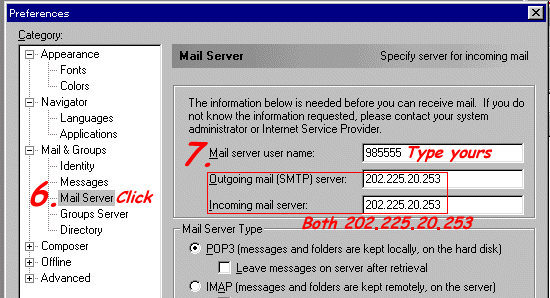 For step 7, just type in the number at the beginning at of your e-mail address.
For example, if your e-mail address is 985555@asojuku.ac.jp, you type just the 985555.
The Outgoing and Incoming numbers are both 202.225.20.253 for everyone at Aso College.




Click "OK" and you're finished.

---
Getting your mail.
| | |
| --- | --- |
| | To get your mail, first click on the "mail" button. |

Then type in your password. You will not see your password as you type.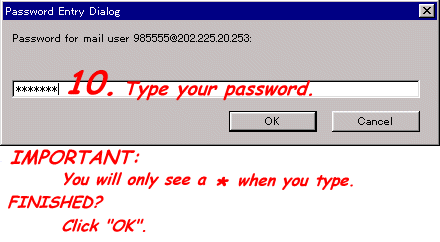 ---
Before You Leave
Before you leave the computer room at the end of class,
erase your name (from p. 5)
erase your e-mail address (from p. 5)
erase your Mail User Name (see below)
click OK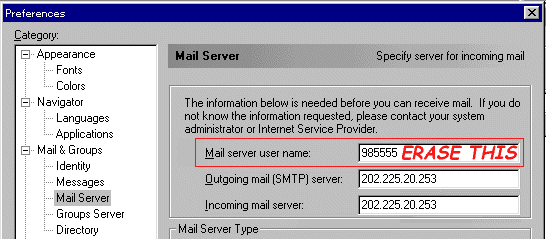 ---

This page was distributed as a printed handout booklet (B5 size paper, horizontal print) to the students.
Contents (c) 1998 by Bill Pellowe. Commercial or for-profit use is prohibitted. Individual teachers (providing that they contact the author) are welcome to print out copies or cut-paste sections for their own individual classes.