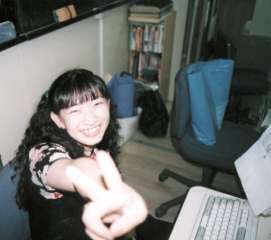 I'm Aki Fujiwara. I am a student in Aso Foreign Language Travel College on Kyusyu island, Japan. I live in Fukuoka-city with my parents. My father is a Japanese-style food cook. Do you like Japanese food for example Sushi, Sukiyaki, Tempra and so on?

By the way I'm a Internet course major. I've been learning English fro over 7 years. But my English is so-so.
I made a home page about my name, Yukata and Japanese
Festivals in my class. So if you would like to look at the page, please visite it.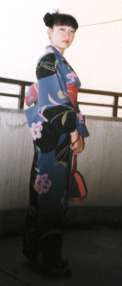 I had been to Australia for 3 months. It was so nice country!
And this spring, I went to England for 2 months. It was a good experience for me.
I like listening to music, watchin movies, talking on a phone for a long time, and singing! I love Jon Bon Jovi, Christian Slater and Leonald Dicaprio. ;) If you would like to look at them, please choose one of "My favorite links."
I have some key-pals all over the world. I want to have more key-pals. I am interested in foreign countries. So please tell me about your country.
Send me e-mail!