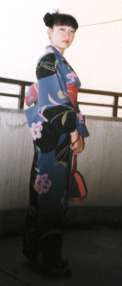 I were a YUKATA when I go to a fireworks (Hanabi).
Do you know about YUKATA? YUKATA looks like KIMONO. Japanese girls wear them to summer festivals.
The designs of Yukata used to be dark blue or white at the begining of this century. But today the designs of Yukata are colorful and varied. There are many kinds of Yukata. Japanese girls wear flashily patterns Yukata by choice. But some people wear traditional yukata. So now, Yukata style is a mixture of old and modern.
When you go to a fireworks, you can see many Japanese girls wearing YUKATA.
You can know more about YUKATA.