I'm Kaori Miki. It's written my name in Kanji. If you want to know my name's meaning, click this. It's my name's meaning.

I'm Aso Foreign Language Travel College student in Kyushu, Japan. My major is internet course. It's very exiting. Because I can make many friends on net. I live in Fukuoka with my parents. My father is office worker and my mother teaches how to wear Kimono. She can wear Kimono by herself. Kimono is a Japanese traditional cloth.
I like Kimono. It's very beautiful. Japanese people usually celebrate with wearing Kimono when people become 20 years old. People have a reception in each town.

I've been learning English for over 7 years. I'm interested in foreign countries and people. I want to talk to foreign people. I like cooking, watching movies and do exercises. I usually cook on weekend just for me. I like Italian foods. These are not healthy for Japanese. So I sometimes try to be on a diet. But I'm not fat.

I usually rent a few videos to watch movies. I like American movies. If you want to know about me more. Please click "My favorite things". You can know they're my favorite things!

If you want to talk to me, send me e-mail!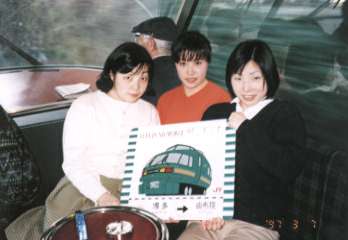 This is my picture. I'm in the middle! I went to Yufuin in Oita prefecture in March. I took a hot spring many times in one night.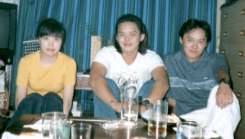 I went to Tokyo in August. At that time, I met my cousins
for the first time in five years. My age is as same as in the middle guy who is Takuya. Taichi is in the right side. He is 3 years older than us. We had very good time!