M & M: INTERVIEW WITH AN ARTIST
#1: KEN SHARP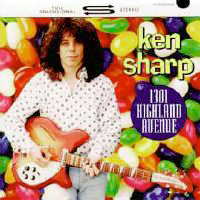 Pennsylvanian resident Ken Sharp released his debut album "1301 Highland Avenue" on 27 January, 1995. An instantly likeable album, brimming full of catchy melodies, it comes as no surprise that Ken is a big power pop fan. In fact, the January 1996 issue of the Japanese music magazine "Sift", in a special feature on the American power pop scene, hailed Ken as the finest artist out of all the artists reviewed. In addition to being a talented musician, Ken is also a well-known interviewer, having spoken to Brian Wilson, Yoko Ono, George Harrison ..... well, if they're famous, there's probably a Sharp interview somewhere. However, there's one person who Ken hasn't interviewed yet - himself... so now we place Ken in front of a short, slender mirror, and point the microphone towards his enviable vocal chords.....
KEN SHARP BY KEN SHARP
Music is my life. It's a well-worn cliche but it's true. Ever since I was little, I've been spellbound by the intoxicating sounds and buoyant melodies of top 40 radio. Like most kids I remember listening to my transistor radio late at night with the covers over my head checking out the latest sounds by The Beatles, The Rolling Stones and The Beach Boys. The first albums I remember ever owning were Meet The Beatles, Beatles VI, Abbey Road and Elvis' Golden Records. Singing along to "I Wanna Hold Your Hand" , "Satisfaction" and "Johnny Angel" by Shelley Fabares, I dreamed that one day I would become a big star.
The Beatles, Elvis Presley, The Monkees and The Beach Boys were my childhood musical favorites. As a matter of fact, they still are. I remember staring at the photo of John Lennon on the back cover of Beatles VI wearing his cool black sports coat and polka dot shirt. Now this was the quintessential rock star! Defiant, rebellious and cool! It was just the ticket for a young impressionable kid like me. I also must not forget the impact of "The Partridge Family" TV show and music on me. I looked up to David Cassidy who portrayed "Keith Partridge" and wanted to be like him, having to fend off legions of teenage girls while singing sugary pop gems replete with nifty harpischord riffs! It also didn't hurt that "The Partridge Family" had great bubblegum music too (not forgetting 'The Archies', 'Groovie Ghoulies' and 'Lancelot Link'!)
Later I was turned on to a diverse groups of artists and groups including The Who, The Kinks, The Raspberries, Stevie Wonder, David Bowie, Badfinger, Daryl Hall and John Oates, The Small Faces, Kiss, Rick Springfield, The Babys, Emmit Rhodes, The Merry Go Round, Todd Rundgren, The Nazz, Utopia, The Byrds, The Knack, The Records, The Rubinoos, The Three O'Clock, 20/20, and a host of others.
After being mesmerized by the sound of a real live electric guitar--thanks to Dennis Martin, a long-haired guitar playing neighbor--I was bitten by the bug and coerced my grandfather to buy me my first electric guitar (a cherry red Electra SG guitar). Practising by myself and with friends to records by The Beatles, Kiss and Bad Company to name but a few, the guitar became my treasured friend. When things weren't going well in my life, the guitar was there for me, unconditionally, twenty four hours a day. I still feel better when I'm holding a guitar. Since learning to play guitar, I've also taught myself to play bass (Paul McCartney is my mentor), dabble with keyboards, xylophone and mandolin. My dream band would be The Beatles with Stevie Wonder on keyboards, and Brian Wilson, Carl Wilson, Eric Carmen and Steve Marriott helping out on lead vocals. Pete Townshend and Wally Bryson could play some guitar. They'd take over when George Harrison needed a break!
Like most aspiring musicians, I worked my way through a myriad of garage bands including 'Debut', 'High Tide' and 'The Michael Paul Group'. We played an assortment of covers including songs by Tom Petty, The Beatles, Van Morrison, Talking Heads, The Who, Rick Springfield, Tommy James & The Shondells, Kiss, The Doobie Brothers, Queen, Eddie Money, Neil Young, Molly Hatchet, Poco, The Romantics, The Beach Boys, Lynyrd Skynyrd and Warren Zevon. Quite an eclectic set! I also convinced them to play "Second Rate Romance", my first original song. Surprisingly, it always got a real good reaction. Maybe I'll record it properly one day. Playing my high school talent show, parties and being evicted from my own garage by the police were among some of my more memorable musical moments.
As I mentioned, I wrote my first song in 1980 called "Second Rate Romance". It reminded me of The Cars! Soon thereafter, songwriting became my number one passion which I've devoted my life to ever since. There's nothing better than writing a song that touches someone's heart.
Japan has always been one of my favorite countries. Growing up, I loved "Speed Racer", "Ultraman", "Astroboy", "Godzilla" and "Marine Boy" so my fascination with Japan was implanted in my brain at an early age. I had the good fortune of visiting Japan in 1983 (Tokyo and Sendai) and left with a greater insight into the Japanese people, culture, the food, fashion and nightlife. I hope one day to return. Anybody have a spare room?
My music career has been progressing at a steady pace since the early Eighties. "Break Down The Walls", the lead off track on my album was included on the 1993 CD Yellow Pills: The Best Of American Power Pop, Volume One. In addition, I also appear on 'In My Room', a new Beach Boys tribute album just released by M & M Records. I cover the Brian Wilson classic "Girl Don't Tell Me". In the grand tradition of Paul McCartney, Stevie Wonder and Emmit Rhodes, I sing and play all the instruments on the song. I'm also part of a Raspberrries tribute LP due soon. I do a cover of "Waiting". Speaking of The Raspberries, I wrote a book about them which was published in late 1993. It's called 'Overnight Sensation: The Story Of The Raspberries'. I've received positive media coverage in such respected publications as 'Rolling Stone Magazine', 'Q' and 'Record Collector'. I'm planning to issue a follow-up titled 'Raspberries: From The Vaults' due in 1996. I've also co-written a book with Denny Somach called 'Meet The Beatles...Again'. Lastly, my next book project will be a collaboration with Jordan Oakes focusing on Power Pop. It'll include interviews with everyone from Badfinger to Big Star, Squeeze to The Rubinoos (who happen to back me up on two songs from my new album, "In My Dreams Tonight" and "Magic") and many more.
Well enough about me. Let's get to the music. I hope you'll enjoy my debut album, "1301 Highland Avenue".
---Ken Sharp, January 1996
You can write me c/o:
Power Pop Press
P.O. Box 504
Dresher, Pa 19025
---