Elliot Kendall : "Le Hot Show"
(PANORAMIC SOUND PSCD 0001) (3,200 yen)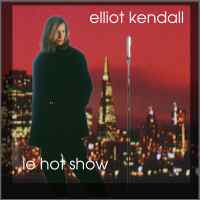 INFORMATION & TRACK LIST
"Everybody Jive" from Le Hot Show was recently selected for inclusion in the feature film The Effects Of Magic. The romantic comedy stars Robert Carradine, Academy Award nominated film maker Jocobo Morales, twice Academy Award nominated Melinda Dillon, Kristen Minter (from television's E.R.) and boasts a cameo appearance by David Carradine. Director Chuck Martinez and producers Belinda Casas-Wells, Lee Cohen and Michael Levin were so impressed with Kendall's work that they requested he compose an additional five new selections for the film. The Effects Of Magic is expected to have a Spring1997 release.
---
Here's what the press and other notables are saying about advance copies of Elliot Kendall - Le Hot Show:
---
"Elliot Kendall - Le Hot Show is one super CD. This music is full of verve and good feel - a confluence of many styles that produces a very positive energy and a 'Hot Is Fun' experience!"
-Chris Dedrick (The Free Design)
---
"Due soon... Elliot Kendall's consummately eclectic Le Hot Show which mixes beach bop with big band jump blues..."
-Timothy White (Editor, Billboard Magazine)
---
"Big Band, Rock N' Roll, Jump N' Jive, Skiffle, Swing, Cavern Club Power Pop, it's all here... wow!"
-Bob Crewe (Producer of The Four Seasons)
---
"Wonderfully inventive, wildly eclectic, Elliot Kendall - Le Hot Show is a musical triumph. A particular favorite is "Everybody Jive", a big beat extravaganza guaranteed to keep dance floors packed from now until the 21st century."
-Ken Sharp (Contributing Columnist to Friday Morning Quarterback and Record Collector Magazine)
---
"From the first note, this album captures your attention and holds it...wonderful sounds...buy it!"
-David Leaf (Brian Wilson Biographer)
---
"As a Big Band leader, I can honestly say that Elliot Kendall - Le Hot Show has successfully bridged the gap between Swing and Rock. There's a lot of spirit in these grooves! This is exciting, optimistic music...get it!"
-Bob Keane (President, Del-Fi Records)
---
"It seems only natural that Elliot Kendall's Le Hot Show would feature such great, well-produced Brian Wilson tributes such as "Symphony For A Sunset", "No Romance Today" and the rad remake of Gary Usher's "Honda Bike". What's surprising is the wild Big Band-cum-Rockabilly sound that he achieves on much of this recording.
Elliot Kendall is more than just a Brian Wilson wanna-be. The man is downright dangerous. He's got his own sound and he knows how to use it."
-A California Saga Magazine
---
"Honda Bike" is a real killer!! "Symphony For A Sunset" is also superb."
-Goran Tannfelt (Surfers Rule Magazine)
---
"Le Hot Show finds Elliot Kendall possessing a versatility of the first magnitude. His smooth vocal style is endearing to fans of all genres within the spectrum of pop music, and his songwriting and arrangements are timeless."
-David Bash (Contributing Writer, Audities Magazine)
---
"Elliot Kendall has taken the best elements of Be-Bop and 'Beach-Bop' to create a new and exciting sound... Le Hot Show est tres bon!"
-Lee Dempsey (Editor, ESQ Magazine)
---
"Elliot Kendall deserves the world, and the world deserves Elliot Kendall..."
-Jordan Oakes (Editor, Yellow Pills Magazine)
---
"...an absolute revelation"
-Goldmine Magazine
---
The Track List
Le Hot Show Theme Part 1
Everybody Jive
Shortnin' Bread
Greatest Sound Around
September In The Rain
13 Women
Go Go To The Show
How High The Moon
Tabasco Two-Step
Go Out West
Fantastic
Le Hot Show Theme Part 2
Symphony For A Sunset
Honda Bike
No Romance Today Theme
No Romance Today
Keep It Inside Tonight
Paper Heart
(Instrumental)

---

The new stuff! Out Now! Elliot, you rock!

---
---