Gallery
Here are some pictures with brief descriptions.
1. c. Late 1965. With sunflower.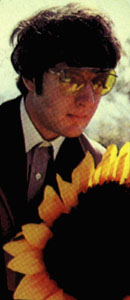 Although this would have been a perfect photograph for the cover of "Sunflower Sunflower", it was taken more than a year too early! It appears on the cover of the promotional-only album issued by Trousdale Music Publishers in early 1966, titled "What's Going On Here?"



More to follow....