Background

Anthony (Tony) C. Thomas is the youngest of three children of the freemason comic of Lebanese ancestry, Danny Thomas (died 1991.02.06), and his wife Rose Marie (died 2000). Danny Thomas went from a childhood of poverty in Toledo, Ohio to become a star in the United States, producing such hits as "Make Room for Daddy" and "The Dick Van Dyke Show", gaining in the process such friends as Bob Hope, Frank Sinatra, Milton Berle, George Burns, Sid Caesar, and Buddy Hackett.. On 1962.02.04, Danny Thomas founded the St. Jude Children's Research Hospital in Memphis, TN, which was to play a significant role in his life. His early 90s autobiography, "Make Room for Danny" co-authored by Bill Davidson, might give more information about this. Tony was born in Los Angeles in 1948.12.07, and grew up in Beverly Hills.
Gregory Maxwell Gilford is the son of actress Anne Gwynne. Ms. Gwynne made some 65 films from 1939 to 1970, mostly for Universal Pictures, including "Spring Parade", "Ladies Courageous", "Black Friday", "Sin Town", "We've Never Been Licked" (still played at Texas A&M every year), "Jailhouse Blues", "Frontier Badmen", "Bad Man From Red Butte", "Panhandle" (Blake Edwards' first film), "Murder In The Blue Room", "The Strange Case of Dr. Rx", "The Glass Alibi", "Arson Inc.", "Broadway", "House of Frankenstein", "Flash Gordon Conquers The Universe", "Ride 'Em Cowboy, and "The Enchanted Valley". As for television, Anne Gwynne holds the distinction of starring in what was, perhaps, the first series produced strictly for the new medium. In 1947-1948, Ms. Gwynne starred in "Public Prosecutor", filming 26 episodes for NBC.
Early Days
The Thomas Group met, according to the liner notes of the single "I've Got No More To Say", at Beverly Hills High School. During their senior year, they were all enthusiastic basketball players, and thus got to know each other on the school's court. Tony, Greg, Marty and David were all native Californians, while Robert originated from Kentucky. David had studied the trumpet prior to joining the group. Marty apparently had "a wealth of professional experience".

The Years of Success
1965
Dunhill Records discovered them, and signed them to Trousdale Music as writers with a 5-year contract. P.F. Sloan and Steve Barri were apparently impressed with their "happy sound and fresh look". They assembled their standard team of studio musicians to work with the band, namely P.F. Sloan on guitars, Joe Osborne (bass), Larry Knechtel (keyboards), and Hal Blaine (drums).The following table provides a brief summary of some of the other people behind the group.
| | | |
| --- | --- | --- |
| Role | Name | Notes |
| Agency Representation | Ted Ashly, The Ashly / Famous Agency | Ted went on to become Chairman of Warner Bros. Pictures for a time. |
| Management | Terre Thomas | Tony's sister. |
| PR | Rogers & Cowan | › |
1966
They were allegedly acclaimed as "the fastest rising rock'n' roll group" of 1966. An article in 'KRLA Beat' in late 1966 featured an article about them. Even before their third single had been issued, however, they found themselves back in various colleges in Southern California, beginning their Freshman year, in September 1966.

Steve Barri said the following about them:
"At that time, again we always seemed to jump on what craze was happening at the time and at that time there was a lot of success by artists who were sons of stars, and Tony Thomas was the son of Danny Thomas, and a very good drummer as well. It was just this little band that he had that we heard and again, it was an opportunity for us to have someone do our material and the songs which we were writing, and we felt we had a good shot with them. They did do an Ed Sullivan show and one of the songs we had out with them, "Autumn", got on the charts here, but it was never that successful."
(Taken from an interview with Glenn A. Baker in 1983.02, courtesy of California Music)
While on the first two singles, background vocals were mainly P.F. Sloan and Steve Barri, from the 3rd single onwards, the group would participate more in their recordings. Greg, Tony and David added their voices to P.F. Sloan and Steve Barri's background vocals.
1967
Steve Barri told The Thomas Group that "I've Got No More To Say" was the number one record in South Africa of 1967. (If true, Dunhill must have enjoyed an inordinate amount of success there, what with the South African Fantastic Baggys!). However it had little success in the USA, which raised eyebrows at their record company. Despite having had top quality material and staff to work with, none of their first three singles had made much impact saleswise. Jay Lasker (the president of Dunhill after Lou Adler sold it to ABC) decided that the problem was the lead vocal; hence Steve Barri's vocal being prominent in the mix of their 4th single.
Marty Howard was severly injured in a single engine plane crash on a trip from Los Angeles to Las Vegas. David Goldsmith suggested a friend of his, the rest of the band agreed, and so Marty was replaced on lead guitar by Steven Gaines in late 1967.
The group would use a room at Tony Thomas' home for rehearsal. It was here that Jimmy Haskell helped them work on one of his songs for the "Riot On Sunset Strip" movie, although is uncertain whether this recording was ever finished. The group's participation in the movie was probably due to David Goldsmith having a connection with its producers. This movie itself was a teen drama dealing with the problems innocent flower children had in dealing with society's "squares" (police, parents, storekeepers...). Greg Gilford played a bad guy who was holding a school building hostage, although it is uncertain whether this short scene made it to the final cut of the movie.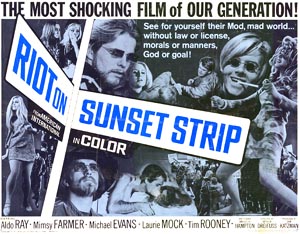 Their fourth, and final single, the understated "Is Happy This Way", marked a slight change of direction, to a mellow, "soft rock" style.
1968
Sessions for a fifth single yielded two songs, "Someone" and "Is It Any Wonder?", in a successful attempt to show that The Thomas Group could play their own instruments, and stop using studio musicians. Yet, this was apparently not what was wanted at Dunhill, and so the group left. 8 tracks were written, recorded and produced by the band in order to interest other labels. Through their manager, Terre Thomas, a connection was made with the small label, VMC Records, for whom the band re-recorded the song they had recorded at their final Dunhill session, "Someone". It was to be the band's final session. The president of VMC decided not to release it as a single, and so the band drifted apart. The first to leave were Tony and Robert. Greg, David and Steve recruited a couple of new members, and released a single "Little Girl, You're A Woman To Me" / "Together" as a single on VMC Records, under the band name Morning Sun (VMC 739). The single was commercially unsuccessful, and so Morning Sun broke up.Greg Gilford remained with VMC as a solo artist. His producer, Tony Harris, and his partner, then sold the VMC Records master of "Someone" to Epic Records.
---
Where Are They Now?
Tony Thomas

Tony Thomas' oldest sister, Marlo, became a sitcom star hereself in the late 60s as "That Girl". She was asked "What was the biggest disadvantage of being Danny Thomas's daughter?", and replied that "The real disadvantage was not having my parents there when I wanted them. They traveled a lot, and my sister, brother and I were left home with staff and relatives. It made me appreciate the telephone. As far as being an actor and following a famous parent, the biggest disadvantage is that you aren't allowed to fail anywhere. People are watching you too soon; even when I was doing summer stock, people were writing reviews of me in Variety because they wanted to see what Danny Thomas's daughter was doing. It gives you too much spotlight too soon, and you have to make a lot of mistakes before you get to be any kind of an artist." Perhaps the same happened to The Thomas Group.
Tony went on to study at the University of San Diego, and through his father's connections, moved into the field of TV and movie production. In 1976, Tony Thomas created Witt-Thomas-Harris Productions, together with Susan Harris and her husband Paul Witt, which grew to become the largest independent producers of television comedy in the United States, including the cult favorite "Soap", which began airing in 1977. Here is some of his work:


Producer filmography

| | | | |
| --- | --- | --- | --- |
| Date | Title | Type | Position |
| 1971 | Brian's Song | TV | Associate Producer |
| 1972 | Chill Factor, The (aka Cold Night's Death, A) | TV | Associate Producer |
| 1975 | Fay | TV Series | Producer |
| 1976 | Practice, The | TV Series | Producer |
| 1976 | Griffin and Phoenix: A Love Story | TV | › |
| 1984 | Firstborn (aka First Born) | Motion Picture | Producer |
| 1985 | Golden Girls, The | TV Series | Executive Producer |
| 1987 | Beauty and the Beast | TV Series | › |
| 1988 | Empty Nest | TV Series | Executive Producer |
| 1989 | Dead Poets Society | Motion Picture | › |
| 1989 | Heartland | TV Series | Executive Producer |
| 1991 | Blossom | TV Series | Executive Producer |
| 1991 | Herman's Head | TV Series | Executive Producer |
| 1991 | Nurses | TV Series | › |
| 1992 | Final Analysis | Motion Picture | › |
| 1993 | John Larroquette Show, The | TV Series | Executive Producer |
| 1994 | Mixed Nuts (aka Lifesavers) | Motion Picture | › |
| 1995 | Muscle | TV Series | › |
| 1995 | Minor Adjustments | TV Series | Executive Producer |
| 1995 | Brotherly Love | TV Series | Executive Producer |
| 1996 | Radiant City | TV Series | Executive Producer |
| 1996 | Local Heroes | TV Series | Executive Producer |
| 1996 | Pearl | TV Series | Executive Producer |
| 1998 | Secret Lives of Men, The | TV Series | Executive Producer |
| 1999 | Everything's Relative | TV Series | Executive Producer |



Now his two older sisters, Marlo and Terre continue to do work for the St. Jude Children's Research hospital. Marlo serves as the hospital's National Outreach Director, Terre serves on the ALSAC / St. Jude board and Tony organizes many fund-raising events. Tony was interviewed in the 1995 documentary "Danny Thomas: Make Room for Danny."



Here is a picture of Tony in 1996:

From left to right:

Terre Thomas, John Larroquette, Tony Thomas and Marlo Thomas

---

Robert Wallerstein


Robert works as an attorney in Los Angeles for the legal company Armstrong Hirsch, which specializes in the entertainment industry.

---

David Goldsmith

He went on to become a highly talented and experienced broadcast executive, with now more than 25 years of continuous work in the Hollywood production community. He supervised or produced TV programs such as 'Shogun', 'Winds of War', 'Max Headroom', 'Valerie', 'Perfect Strangers' and 'She's The Sheriff'. As a senior manager and creative affairs specialist, he controlled the budgets and ran the programming operations for various organizations including Grant-Tribune Productions, Lorimar Television, Gaylord Productions, Chuck Fries Productions, Paramount Television and MGM Television. He now heads a full service program / marketing consulting firm that assists new and established companies with high-level development and marketing contacts to major media outlets.

---

Greg Gilford

After The Thomas Group broke up, Gilford released a single on VMC Records, "Little Girl, You're A Woman Now" / "Together" (by Harry Nilsson) ("Someone" being an unreleased 3rd track from these Tony Harris-produced sessions).He then went on to sign as a solo artist with CBS Records Group's Epic Records before touring Europe. Staying in Amsterdam, The Netherlands, he married and remained in Holland for 4 years performing and touring in Europe. Returning to New York, he produced and starred in numerous Off- Broadway and Off-Off Broadway productions, including 'The Crucible', 'Native Son', 'Moon for the Misbegotten'and 'Rage'. When the personal computer was introduced, he got swept up in the new technology, becoming a consultant to various companies including Blue Cross / Blue Shield. Gilford became a pioneer in the fields of virtual reality production, interactive multimedia production, and the internet. Gilford, continuing his artistic expression, produced and starred in the inaugural production at the Off-Broadway Producer's Club Theatre in "The Legend of Nick Diablo". Keeping his hand in music, he produced and arranged "Hep deHopcat at the Hep Hop", a CD project for Cybersapien Entertainment. Currently a web architect, Gilford lives in New York City.


---

Marty Howard

Unknown

---

Steven Gaines

Unknown

---




With deepest thanks to Greg Gilford for the supply of a great amount of additional information.