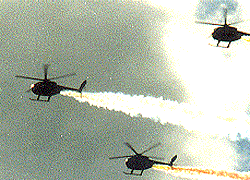 Helicopter Aerobatic
A helicopter team of Alfer Aviation Aeribabatic will show formations.


Glider Aerobatic Demonstration.
One pilot, a member of Kansai Region of Japan Gliding Association, will demonstrate.


Aerobatic Demonstration.
Mr. Rock Iwasaki, the first professional aerobatic pilot in Japan, will show the rear flight, stall spin, non power reversal and so on roaring of the engine.


Food and Special Products Festival.
Barbecue of Tajima meat, Izushi Soba and Sea Products from the Sea of Japan will be sold.