Celtic Christianity - December 1995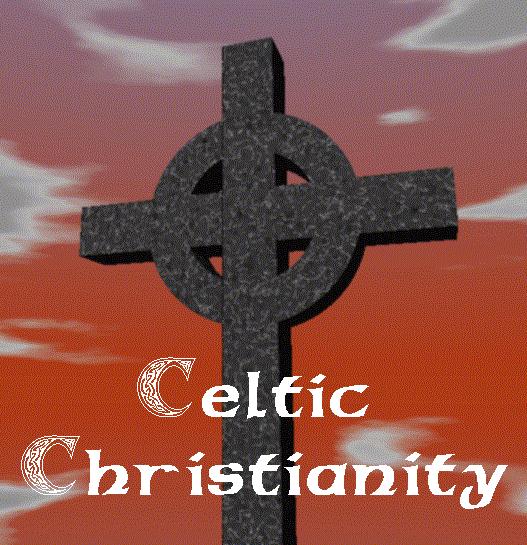 News
The Order of St. Aiden
Some time ago Kristen Ingram (New Address), wrote to me:
Did you know there is an American Episcopalian lay order, the Order of St. Aiden? Their newsletter, The Wild Goose, comes from: The St. Aiden trust-USA, PO Box 4241, Evergreen, Colorado 80439. They also put out an "Anamchara.".
Kirsten recently wrote:
Thanks for posting the Order of St.Aidan notes.The chaplain wrote to me and said that four new aspirants have come into the group as a result of the www page note!
And more recently wrote:
Greetings, Stuart: The Order of St. Aidan now has its own e-mail address: transfig@aol.com. Instead of mailing to me, people who are interested will get information faster by writing to the Rev. Jack Stapleton at that address. The blessing of the Three be upon you. Kristen Ingram
The band IONA
Ron Lindeboom wrote: I am going to set a link to your Celtic Christianity page from the homepage that I make for Forefront Communications' ''IONA'' website.

The band writes and sings with a heavy influence coming from Celtic Christianity and after viewing your page, I thought you would be an appropriate link to the site. Please visit our site at: http://www.callamer.com/~boomer/iona
Celtic soul conference
Mary Earle wrote:
You may want to know about the upcoming conference at the College of St. Catherine, Nov. 30 - Dec. 2. Entitle "Celtic Soul", the conference brings together some of the best scholars (Noel Dermott O'Donohue, Rosemary Haughton, Esther DeWaal, Ed Sellner). I just wrote them to suggest that the information could be put on the net, and I gave them your e-mail address. I won't be able to attend, but think this is a great opportunity for spreading the word.
Kirkridge Retreat Center, Bangor, Pennsylvania.
mlshatto@redrose.net wrote:
One of my favorite retreat spots is Kirkridge Retreat Center, Bangor, Pennsylvania. It was founded 52 years ago by John Nelson after he spent time on Iona and desired to recreate the kind of spiritual space he had found there. They have a wide range of planned activities, plus space which groups may rent, and individual rooms for private retreat. I'll be going over in three weeks for a week-end retreat on "Healing Abuse in Women's Lives" with Carter Heyward (professor of theology, Episcopal Divinity School) and Bev Harrison (prof. of ethics, Union Theological Seminary).
One of the added attractions is the proximity of a small group of lay brothers on adjoining property who have built a stone circle, an eight-sided stone chapel to St. Columba, and a stone bell tower on their land and invite any retreatants from Kirkridge to come meditate asking only that they maintain silence while in the space. The area they call Columcile. I try to arise early and spend early dawn hours at Columcile at least one morning of any retreat time that I have at Kirkridge.
The Lord's Prayer in Welsh
Recently Jennifer Pelerine wrote:" I recently stumbled across your Celtic Christianity Web page; it's comforting to have kindred spirits out there!
You've asked for contributions -- I have something you may find interesting: the Lord's Prayer in Welsh. I cannot remember where I got it from, though, but here it is:
Ein Tad, yr hwn wyt yn y
Nefoedd, sancteiddier dy Enw.
Deled dy deyrnas;
Gwneler dy ewyllys, megis yn y
Nef, felly ar y ddaear hefyd.
Dyro i ni heddyw ein bara
Beunyddiol.
A maddeu i ni ein dyledion, fel y Meddeuwn ninnau i'n dyledwyr.
Ac nac arwain ni i brofedigaeth;
Eithr gwared ni rhag drwg.
Canys eiddot ti yw y deyrnas,
A'r nerth, a'n gogoniant, yn oes Oesedd.
Amen.
I only wish I could pronounce this without mangling it!"
Celtic Cultures
Celtic Cultures Web page never seemed to change so I asked, "...whether your jewelry page "Page last updated April 18, 1995" will ever be back from lunch?", they replied:
I had hired someone to do my web page and get the items I was already selling online. He was then going to add the new stuff. Unfortunately, he left town before finishing the job, and I have been looking for someone to finish it. As soon as I do, all the stuff will be updated.
Stuart Joseph
Celtic Cultures
RR 2 Box 164
Houghton Brook Road
Putney, VT 05346 U.S.A.
(802) 387-KILT (5458) (voice)
e-mail: celtic@sover.net World Wide Web: Web page catalogue
Stuart says, " I have never ordered anything from this company so I can't reccomend them, they say they are:
Your source of all things Celtic-- if it's Celtic, we'll get it! Celtic, Folk, and Early Musical Instruments: Bodhrans plain and hand painted; Pennywhistles; harps; music; books and reference materials; cd's and cassettes; Scottish Dress and accessories: kilts; bonnets; jewelry; clan crest badges; Celtic, Medieval, Renaissance computer clipart, programs, screen savers, wallpaper; Heraldic items and Custom Art Work
Off the beaten track...
Dr. William E. Martin wrote to me about John Michell's book NEW LIGHT ON THE ANCIENT MYSTERY OF GLASTONBURY--Gothic Image Press, Glastonbury.
"Page 108:It can be assumed that the Celtic Church maintained a pepetual chant. It was a 12 part Chant--based on 12 notes--12 choristers 12 signs of the Zodiac--12 Tribes, etc. One of these 12 choirs was at Glastonbury. The 12 saints that brought Christianity to Glastonbury [St. Joseph of Arimathea and his group of 12] and that this chanting was continued to the time of William the Conqueror when he kicked out the old Abbot and put a Norman in. Do you know anything of this music or the chants. I'm trying to find them. I'd like to know what they sounded like. A lot of mystery to this early church life. "
If you know any about this mail to Dr. William E. Martin.
"Celtic Orthodoxy?"
Several people have mailed to me about these links with the same basic message: These links "actually are a mix of rehashed paganism and a drop of Christianity."
Rev. R. Eamon Graham, Celtic Orthodox Minister wrote: Visitors to your page might be interested in the following links:

Stuart's Home Page
Contact Me at &ltStuart@gol.com&gt
Last Updated 5th November 1995
Information Transfered to this page - 13th January 1996
---