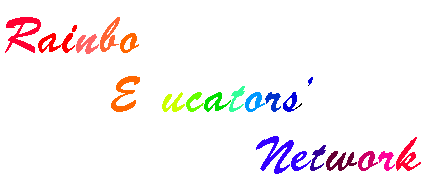 This website offers information to educators who would like to deal with gay, lesbian and bisexual issues in the English as a Foreign Language (EFL) classroom. Here you'll find teaching ideas, reference materials and links to other glb educational websites.
NOTE:
The "official" group which was begun in 1997 has since dissipated into a variety of organizations throughout Japan. Some of these are:
For further information about these groups, please see thier respective websites.
The REN web site will remain online and operating, but may not be updated on a regular basis.
Thanks for stopping by!
--The REN Cybrarian
---

Ideas you can USE in the classroom!

Reading passages for students and teachers

Links to glb websites / published teaching materials

Notices and Events

Join us in the REN chatroom! (For the JAVA enabled)

About Rainbow Educators' Network / Feedback
---

White Ribbon Campaign
Raising Awareness about Gay-Teen Suicide
And remembering those who we've lost
For EFL/ESL materials on HIV/AIDS:

If you don't know the HIV status of your partner, you should be having safer sex.
This site was born on January 23, 1998. Thanks for stopping by!
RAINBOW EDUCATORS' NETWORK http://www2.gol.com/users/aidsed/rainbow/index.html
Last updated September 19. 2006.