Dates
October 17 (Friday) to 22 (Wednesday).
Shorter stays are also welcome.
Note on Travel Arrangements
Flights to Bali from Tokyo may fill up quickly. Book your flights early!

Level
From total beginners to second series.

Language
All classes will be held in Japanese with English translation if required.

Instructor: Daniel Caplan (Dan)... more info here.

Photo Gallery from 2007 Bali Retreat here.

Participants
15 maximum.

Cost
October 17 to 22: 80,000 yen.
Shorter stays: 18,000 yen per night.
Prices include all Yoga practice, lodging and breakfast. Airfare and other travel expenses not included.

Location
The Ananda Cottages in Ubud, the cultural heart of Bali. There are beautiful stepped rice paddies on the hotel grounds and in the surrounding countryside. The hotel has two pools, and the friendly staff are happy to arrange day trips and other activities.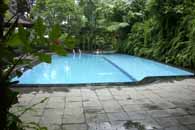 Travel
Participants arrange their travel to and from Bali. Dan will use Japan Bali Tours, phone: 03-5747-5652, to arrange his tickets.

Taxis are readily available at the Denpasar airport and it takes about 1 hr. 15 min. to reach the hotel from the airport. There is a prepaid taxi counter at the airport; the cost to the Ananda Cottages is about 95,000 RPS, or about 1000 yen.

Schedule
We will have a short meeting in the night of October 17 after all students reach the hotel. Our first practice will be in the morning of October 18.
You can see a more detailed schedule here.

Mats + Rugs
There will be no rental mats available; please bring your own mats. Cotton rugs are also highly recommended.

Food
The program includes a vegetarian breakfast. There are many restaurants and cafes nearby serving excellent vegetarian and non-vegetarian food. The hotel's restaurant is on a verandah overlooking a beautiful pond.

Accommodation
We will stay in traditional balinese style cottages, with two or three people per room. Private rooms or "Luxury Villas" can be arranged at extra cost, contact Dan for details.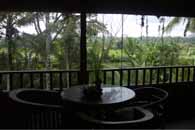 Note: If you wish to stay at the Ananda Cottages before the retreat starts, or after the retreat ends, we can arrange extra nights for you at group rates. Please contact Dan.

Activities
Our program will include optional Balinese Dance lessons. There will also be many opportunities to watch dance performances, visit museums and galleries, and for shopping and sightseeing. Hiking, mountain biking and rafting are also available.


More Information & Reservations
Contact Dan at dcaplan@gol.com, or 090-7015-0198.