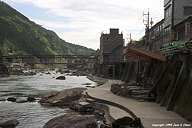 Amagase onsen is a little town full of hot springs.
The different baths are located just next to a river running through the middle of the town. There are many different bath, among which some are free, some are open air, and most are mixed. Some of the baths have small little shelters to undress in with shelves to put one's clothes on, while others has nothing. In case of the last kind of bath, one should not be too shy, as one will literally be undressing in the middle of the town!



Amagase onsen is located in the western part of Oita prefecture. From Oita city take route 210 to Amagase town. When you get to Amagase town, get off route 210 and go to the center of the town. This is where you will find the hot springs.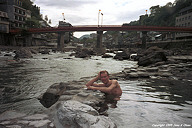 Amagase onsen was the first hot spring I got in on my trip to Kyushu. It was two days after I left Tokyo, and I really needed a bath. I arrived at Amagase onsen early in the morning, and the town looked pretty dead. In the middle of the town was a little river with concrete banks. Here and there were different hot springs, there was one hidden in a rock, there was one on the bank totally open, etc. I decided to try one of the big ones on the bank. It belonged to a hotel, so I went in and paid the fee.
An old man was just leaving af I was about to get in. The bath had kind of a shelter with separate areas for men and woman to undress. I undressed, and wearing my little hot spring towel in front of my precious parts, I went for the bath. I was literally in the middle of the town wearing only my little towel, and even though there was not a single other person to be seen, it did feel a little uncomfortable. I got in the water which was quite hot. The bath I was in was split in two halves only separated by a thick wooden wall. I was in the cooler half and I could clearly see how the steam was rising from the surface of the water from the other half of the bath. After having getting used to the hot water I decided to try the hot half. I never got that far though. Just putting my hand in the hot half was enough. There was no way I would be able to get in that water.
Having spend some time in Amagase onsen looking at the town, taking pictures of my self in the bath, etc., I finally left feeling much better and cleaner.


Other visitors comments and adventures:
Add your own comments or adventures at this hot spring