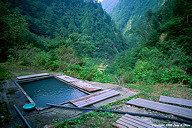 Asohara onsen is an open air and mixed hot spring.
The water at Asohara onsen is clear and hot without being too hot. The temperature can be adjusted by adding cool spring water using a steel tube. The bath itself is a rectangular concrete bath located on a little falt spot next to Kurobe river.
The hot spring is mixed except for from 17:00 to 18:00 which is for ladies only. There are no shelters to undress in, but since the hot spring is hidden from the mountain trail, the camp site, and the cottage, even ladies can feel quite relaxed.



The easiest way to get to Asohara onsen is from Keiyakidaira station at the end of the Kurobe canyon railway. From Unatsuki onsen in north western Toyama take the Kurobe canyon railway to Keiyakidaira. If you go in the high season, you may have difficulties getting a ticket.
At Keiyakidaira station, take the little mountain trail leading south towards Kurobe dam. The hike will be about 5 hours, and is not difficult. Only the first 1 hour when it goes up, and the last half when it goes back down will make you tired. The rest of the hike is more or less flat, but very nice as you will be walking on a narrow trail half way up the mountain with a nice view of the canyon.


I had been on a business trip to Toyama on a Friday and had taken the following Monday, Tuesday, and Wednesday off. I was planning on going deep into the Tateyama mountain range to get in a few hot springs which I had wanted to get in for a long time, but never had the chance. The customer which I visited got quite surprised when I showed up with my 20 kg. backpack again.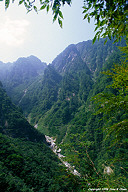 I left the customer in the afternoon and made it to Unatsuki onsen without any problems. I spend the night in my new tent next to Kurobe river and got up early the following morning to get a ticket to the Kurobe canyon railway. The summer holiday was already over, but I was not going to take any chances, so I lined up 6:50 and got my ticket to the first train without problems.
The train ride down through the Kurobe canyon is quite famous, but to me it was quite disappointing. There is a lot of tunnels, which are quite wet and cold, and unless you get a seat on the right side of the train, you will miss most of the view. Unfortunately I got a seat on the left side of the train.
I finally arrived at Keiyakidaira and managed to find the trail to Asohara onsen with a little difficulties. The first part of the hike up the mountain almost killed me because of the heat. The mountain lay right in the sun shine, and there was no place to hide. I finally got up, and the trail now flattened out. I was now walking half way up a steep mountain side on a narrow trail which sometimes only consisted of a few planks of wood tied together. This was very exiting. If I made a wrong step, it would be the end of that trip.

I was having a great time on the narrow mountain trail looking at the gourgeous view of the canyon. The speed was quite good. Although I had to watch my steps, it was quite an easy hike. It was clear how the trail had been carved out of the mountain, some places it was like walking in an open tunnel where the left side was missing, and at one point, there was a 50 meter tunnel in a bend of the trail. There was no light in the tunnel at all, and I hadn't brought any flash light, so I had to feel my way. It was cold, and it was wet, and if I had been claustofobic it would probably have been worse than hell, but I got through without banging my head on too many rocks.
I arrived at Asohara onsen about 5 hours after I left Kaiyakidaira, and went the the cottage to pay the tent fee, and the hot spring fee. I then went directly to the hot spring and soaked for a while. It was so nice to relax in the warm water after the hike. I had big blisters on my feet, and my legs were very tired, but the warm water helped me feel a lot better. If it hadn't been for one very unfriendly fly, I would probably have stayed in the hot spring a lot longer.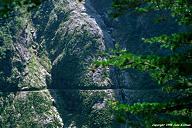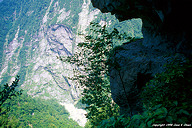 When I arrived at Asohara onsen there were already 2 tents. 4 older gentlemen had arrived before me, and were enjoying the hot spring. After I had had my turn, I started cooking dinner, and as I did, the 4 gentlemen almost one after the other came and invited me to join them. Since I had already started cooking, I didn't want to move, so I excused that I would join them later. I had hardly finished my dinner before they came back and almost dragged me over to their tents where they had snacks and sake ready, and we had a little party. I soon realized that they desperately wanted some new and interesting company rather than they concerned about me being alone, which was their excuse for inviting me to join them.
I had a pretty good time with the 4 gentlemen drinking their sake and eating their snacks (with ants) and talking with them. It turned out that they were old friends from school, and they enjoyed hiking and drinking together, and they invited me to join them if I should ever get to go to their part of the world.
Other visitors comments and adventures:
Add your own comments or adventures at this hot spring