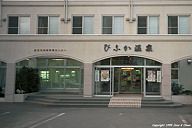 Bifuka onsen is a public hot spring.
Bifuka onsen is in a new and modern building. It looks pretty much like a huge sento with men and woman totally separated. The bath is a tile bath lined with fossets along the walls. Inside the building are also rooms where people can rest and have a little party after having taken a bath. Bifuka onsen does not exactly look like a natural hot spring.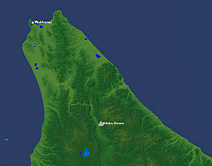 From Asahikawa city follow route 40 up north to Bifuka town. Continue through Bifuka town, and take a little road on your right to Bifuka Island and Bifuka onsen.


I had been driving all day long on my way to the northern most point of Hokkaido, when, in the evening, I saw a sign saying Bifuka onsen. I was pretty tired, needed a rest, and therefore decided to check it out. I went down a new little road and ended up at a huge parking lot. On one side of the parking lot was a big building hiding the hot spring somewhere inside, and on the other side was a little lawn with trees and a lot of tents. It looked like a good place to spend the night, so I drove around a little between the tents until I found an empty spot where I put up my tent. By now I was well practiced in putting up my tent, so it did not take more than 5 minutes to unpack my bike and get my tent up. I was happy that I did not have to drive around all night that day on some mountain in the rain trying to find a place to sleep. This was the perfect spot for me that day!
I went to the hot spring, which most of all looked like a big public bath. I am sure that it was one of those places where the local government had some money left over, and therefore decided to build a big building around their humble and little natural hot spring. I got inside, paid the fee and got out of my clothes. It had been quite a nice weather that day, so I had not worn all my rain clothes, etc., and had therefore become quite dirty. I started to wash of around 500 km road dirt, and I ended up being quite a handsome young man, as usual. I soaked in the bath tub for a while, enjoying the "beautiful tiles" until I had enough and left the place again. I went back to my tent, and had a really good night of sleep.
Other visitors comments and adventures:
Add your own comments or adventures at this hot spring