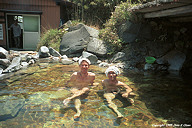 Ebinokogen onsen is an open air hot spring on the Ebino plateau.
The bath is a rock bath half under a roof, and half out in the open. A little down the hill are 3 tubes where hot water comes out and where on can stand and get a shower.
There are separate men and women areas with small wooden huts to undress in. The women's area is behind the men's area.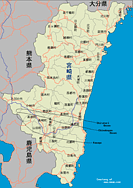 From Kobayashi city in southern Miyazaki prefecture take the local road to the Ebino plateau or the Kirishima mountain range. Just before you reach the parking lot and all the souvenir shops on the top of the plateau is a little road on your right side. This road will take you to the hot spring. you can't miss it.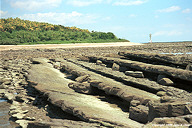 I was touring Kyushu in Golden Week of 1995 and visited Ebinokogen onsen on my way. After getting into the bath I had a little conversation with a young man. From the women's area we could hear his girlfriend. They had seen this hot spring on TV and knew that there would also be 3 shower-like hot springs apart from the baths we were in. She wanted him to follow her down to them which he did. She came to the men's bath wearing a towel, and they went down there together. After they came back, I wanted to try it too, and went down there. While I was under one of the showers trying to massage my shoulders with the hot water falling down, I happened to look up towards the women's area, and could see the girl's head sticking up over the wall, and looking in my direction. I turned around a couple of times so she could get a good look and then went back to the bath. Here I talked with her boyfriend some more. She must have been very bored alone in the women's area, because suddenly she came over and sat next to the men's bath and talked with us. I asked her to take some photos of us in the bath, which she did.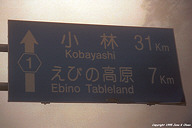 When I got back home and had my film developed, I got quite a surprise. Both her boyfriend and I were fully exposed. It was not exactly the kind of photos you put in a family album and show to friends and family, but obviously the kind of photos that the girl liked.....


Other visitors comments and adventures:
Add your own comments or adventures at this hot spring