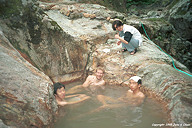 Hiratanai rotenburo is a free, open air, and mixed hot spring.
The bath itself is a rock bath where the water through centuries has made a cavity in the rock. There is one little hot water pool located a little up the cliff side with a nice view of the gorge in which it is located. The water is yellowish and not too hot. Actually it is a little on the cooler side.
There is a quite impressive hut with two separate rooms to undress in. You will also be able to leave your clothes in there without being concerned that it should be wet if it should start raining.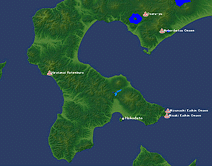 Hiratanai rotenburo is located on the western tip of the Wataseshima peninsula in western Hokkaido. If you are coming from Hakodata, take route 227 north west to the west coast and then take route 229 north along the west coast until Kumaishi town. Pass route 227 leading in land on your right, and take a little road on the left right after passing over a tiny creek. This road will lead up into the mountains, and Hiratanai rotanburo is at the end of this road.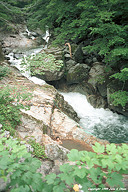 I was at the end of my Hokkaido tour when I finally got to Hiratanai rotenburo. I left Seseki that day in a beautiful weather, but it had already started raining a little when I finally arrived at Hiratanai rotenburo. The hot spring is located at the end of a narrow winding road, and a little ways up the road was a camping lot where I decided to spend the night. Having put up my tent, I immediately went for the hot spring. It was already dark, but I had no problem finding the hot water hole. By then I had already developed an instinct for hot springs. I got out of my clothes and into the hot water. There was already a couple of guys whom I had a little chat with.
The hot spring was quite nice as long as I stayed close to the source. Having been driving in the rain, it was nice to be in the hot water just relaxing not having to worry about getting wet or aything like that. Anyway, could I get any more wet than this.
I left the hot spring again and went back to my tent. I had some bread for dinner which I had bougth earlier, and went then to brush my teeth. At the camping lot there were a lot of school children which I tried not to run into. I have already said hello to at least 1000 Japanese scool children, so that is not a whole lot of fun any more. However, they some how got sight of me, and suddenly I was surrounded by a group of young school girls and their teacher. I wonder if my height and blond hair gave me away. Their teacher urged them to speak to me. One girl said "Hello. My name is Keiko." Another girl said "Hello. My name is Namiko." I could then immagine my self spending the next hour finding out what their names were. However, the third girl surprised me, and the teacher. She obviously had more important things on her mind than her own name, and asked without hesitation "Do you like our teacher?". Having been on the road for almost two weeks, and being in the dark not really being able to see the teacher clearly, I of course answered "Yes. She seems to be a nice and pretty young lady". The teacher immediately blushed, and the school girls just got more exited. Unfortunately the teacher soon came to her sences, and she obviously thought that the girls had studied enough English for that night, so she thanked me, and made them all leave me.
Other visitors comments and adventures:
Add your own comments or adventures at this hot spring