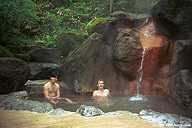 Hirayu onsen is an open air hot spring in the northern Alps.
There are separate baths for men and women with the women's bath hidden a little further up the hill. The men's bath is a large open-air bath only hidden from passing people by some small rocks. There is one large rock bath with warm and clear water. It also has two tubes from where water splashes out, and where one can get its shoulders massaged. This water is pretty hot though.
Each bath has its own separate room for undressing, with shelves for the clothes.



If you come from Matsumoto, take route 158 to the other side of the northern alps. After passing Anbo pass it will go down towards Hirayu onsen. Hirayu onsen is a little hot spring town, but the public hot spring is down a little road on your left before you get into the town.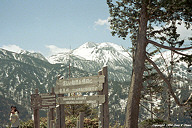 I dropped by Hirayu onsen with my friend on our way back from Shinhotaka onsen. This was the 4th hot spring we were going to get in on that trip. We parked at the nearby parking lot, paid the fee, and went to the men's bath. Even before we got to the dressing room we could clearly see how many were in it. The men's bath was only hidden from by passing people by small rocks. This was none the less not going to discourage us. We had run down trails wearing only a tiny towel before, so this was nothing special.
We stripped down and got in the water. It was nice and warm, but being the 4th hot spring in only two days, this was far from enough to excite us. So we went for the small tubes with water pouring down. My friend tried it first. He carefully put his butt in the water and yanked it back out with a yell. It must have been hot. Not being Japanese I figured that if my friend found the water was hot, then I would probably not even be able to touch it. I therefore sat down in the hot spring and slid in under the pouring water where it mixed with the cooler water from the big bath. This was more like it. The water was splashing right down on my private parts.


Other visitors comments and adventures:
Add your own comments or adventures at this hot spring