Yu-no-tani Onsen. Hoshi-no-yu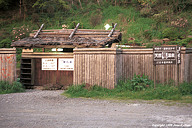 Yu-no-tani onsen, Hoshi-no-yu is a free, open air hot spring half way up Mount Aso.
The bath is a large rock bath with plenty of room for everyone. The water is nice and warm without being too hot, but not warm enough to stay in for hours.
There is separated woman's and men's area with shelves to put the clothes on just inside the entrance. In front of the hot spring is a large open area where it is possible to camp in a little tent.



Yu-no-tani onsen is located half way up Mount Aso. From Kumamoto city take route 57 towards mount Aso. Next take route 325 towards Choyo village. Before getting into Choyo village make a left turn and go up mount Aso. Follow this road all the way to the end. You will see a very large hotel, and probably think you went up the wrong road, but keep going right past the holes main entrance, and you will get to a large open space. Her you will find Hoshi-no-yu.


I first wanted to go to another nearby hot spring half way up Mount Aso. I had read some where that that hot spring would be mixed, and although it was a hot spring belonging to some famous and expensive ryokan, I found it worth trying out. I arrived in the afternoon and went into the ryokan to pay the fee to get in the hot spring. I was told that it was too late for guests from outside to use the hot spring, in the evening only guests staying at the ryokan could use the hot spring. Just what I needed! They told me about some other hot spring nearby where any one could get in even in the evening. I did not exactly look forward to driving down the mountain again and then driving around trying to find the other hot spring, but I had already set my mind on getting a nice warm bath, so I went in the direction I was told.
Having driven around for quite a while, I finally got to a place that looked like as if it had a hot spring hidden some where. I passed a huge hotel, drove right past the main entrance and continued around to the back to an open space with a large green lawn. In the corner was a hot spring called Hoshi-no-yu, probably because it would be possible to see the stars in the night. I got off my Harley and checked the hot spring out. It was not mixed, but it was open air and free. Not bad. I put up my tent and got in the hot spring. It was nice to just sit there and relax after a long day of driving.
As I was sitting enjoying the hot spring, two gentlemen came in and joined me. We talked for a while, before I finally left. It was now getting quite late, and I was suddenly getting hungry. I got back on my Harley and went down the mountain to try to find some food. I drove around for quite a while, suddenly realizing that I was in the middle of nowhere, and there is not all the family restaurants or izakayas around, as in Tokyo. I finally managed to find a single place which was still open, and got some food.
Other visitors comments and adventures:
Dear Jens,

Hoshi-no-yu is no longer....sadly another victim of Japans economic woes. Thankfully I found out about this, via a local taxi driver, before I did a 3hr hike I had planned which would have finished with a bath at this place. Too bad as it sounded like the sort of place I like. Despite this setback, I did however have a fantastic week hiking my way around Kyushu, staying every night at a village with a hot spring.

Here is a summary of where I stayed/bathed and my thoughts.

Ebino Kogen Rotenburo - Very impressive bath and very friendly fellow bathers from Kagoshima city. Before I knew it I had a can of cold beer in my hands, and they insisted on driving me to my final destination for the day which was:

Yunotani Onsen (Same name but miles away from the one that got closed). Just the one ryokan here, Yunotani Sanso. A real locals hangout, fantastic old indoor baths and one rotenburo. Day trippers have to be gone from around 5pm, then it's o/n guests only. Probably the best food I had on the trip was served here and the owner couldnt do enough for me taking me to hiking trailheads and the local train station.

Tarutama & Jigoku Onsen - Despite the stunning setting, I thought Tarutama was tacky and over rated, in need of a major overhaul, BUT the rotenburo across the road next to the waterfall is without doubt one of the best. Nearby Jigoku Onsen far better, especially the superb Suzumenoyu baths, a trip back in time. Fantastic food, including my first ever Suzume!

Aso National Park was a big dissapointment thanks to tourist driven over-development and all the usual crap that comes with accomodating bus loads of Dantai-san in this country...The area around the cable car is especially tacky. To think these prison like buildings were allowed to be built in a national park is criminal. I did manage to enjoy a hike away from the crowds up to Naka-dake and back. Could have been on another planet in parts.

Kurokawa Onsen - Bought the onsen pass for JPY 1,000 (gets you into 3 places), a great deal. Stinking hot day, ji-biiru went down well after all the baths! Stayed at Sanga Ryokan, highly recommended, well away from the noisy town centre.

Hokke-in Yamagoya (Mountain hut with it's own onsen in the Aso-Kujuu national park), the only way in/out is by foot. Small baths, sadly no rotenburo, but after a 5hr hike it was great. Surrounding scenery is stunning, especially in late May-early June when Azalea flowers are in bloom. Avoid on the weekends during this season. Thankfully I left on a Saturday a.m with hikers coming in en-masse the other way. After my 1,000th "Konnichiwa" my voice and desire to be polite gave up....

Yuufuin Onsen - This must have been a beautiful town, once upon a time...Excessive modern development has left it's ugly scar. Shitanoyu on the edge of the scenic lake is a great deal for JPY 100. I really enjoyed this bath. Very frienldy locals. Suppose to be mixed bathing but sadly no ladies on my visit.

Beppu Onsen - Ugly as hell town but the sand baths are well worth going to and the ladies working there a good laugh. I managed to sneak this in before catching the boat to Hirsohima. Very happy I did.

Dogo Onsen (Shikoku) - The most famous/historical onsens are not always the best. Just deciding what level of entry you want is complicated enough...For me, going to an onsen is all about relaxing in the baths and having a chat/laugh with fellow bathers. Forget it here. Every one looked like death warmed up, including the snobby staff who I found far from welcoming. One consolation...there is a very good beer bar across the road serving delicious ji-biiru. I needed one after this place!

Next region on my list of mountains to climb and onsen to bath in is Tohoku. Hopefully this autumn. Looking forward to it.

Cheers,
John
Tokyo
Add your own comments or adventures at this hot spring