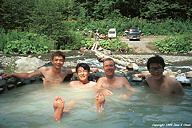 Iwama onsen is a free, open air, and mixed hot spring.
The bath is a square concrete hole, as far as I remember, with nice and warm whitish water. There are no shelters to undress, but some trees around where one can hang one's clothes.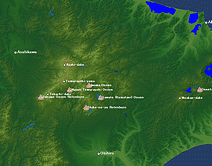 From Nukabira lake take route 273 north. You will soon pass the road leading to Horoka onsen on your left. Next you will pass a road on your right. If you go a little down this road you will soon see a little cafe/restaurant. In this cafe/restaurant you may see a map with detailed directions to Iwama onsen. However it is not difficult to find, so there is no need to go to the cafe/restaurant. Back on route 273, next you will find a dirt road on your left at Mitsumata. This is the road to Iwama onsen, and you will find Iwama onsen at the end of this road. To get all the way to Iwama onsen you must cross a little creek, so if you are not in/on an offroad vehicle, you will have to walk the last little piece of the way.


Having left Sawato (Kumatani) onsen, I headed for Iwama onsen. I had heard about a cafe on a road nearby where there would be directions to Iwama onsen. I found this cafe and memorized the directions. The road leading to Iwama onsen was not difficult to find. After a while it changed to a dirt road, and it got difficult to handle my heavy Harley. The dirt road felt very long, but I finally arrived at a little opening in the forest where a few other motorcycles were parked. I parked and continued down the dirt road. Not far from where the bikes were parked, did the dirt road cross a little stream. There was no way that I could have crossed this stream on my Harley. I crossed the stream via a fallen tree, and soon got to Iwama onsen. There were already 6 people in the bath, and a few more people around who had camped right next to the stream.
I undressed and got in the bath with the 6 others. There were 3 young girls in swimming suit, and 3 young guys in towels. Two of the girls were touring Hokkaido together, and one girl was alone, and so were the guys. They had met at a camping lot and had gone to Iwama onsen together.
We had a good time in the bath enjoying the surrounding nature and each others company. We finally left after an hour.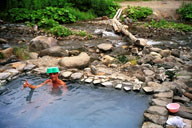 I came back to Iwama onsen a few years later with my friend Stig from Denmark. When we arrived at Iwama onsen, it looked like some girl just had gotten out of her clothes as there was girls clothes hanging on a tree right next to the onsen. To our surprise we could not see any girl, and we couldn't immagine that a girl would have forgotten all her clothes. We there fore started joking that there was a naked girl some where hiding in the bushes, and we got out of our own clothes and into the hot spring.
We were soaking in the hot spring having fun waiting for the girl to come out of the bushes and into her clothes, but she never did, so after quite some time, we gave up and left the hot spring. I still wonder if the girl really forgot all her clothes at Iwama onsen.....


Other visitors comments and adventures:
Add your own comments or adventures at this hot spring