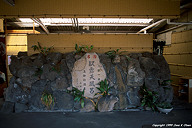 Kami-Suwa onsen is a free, and open air hot spring. It is located on the platform of Kami-Suwa station and the bathers are separated by the train passangers by only a bamboo fence. The bath is a rock bath with room for about 6-8 persons. The water is clear and plenty hot.
Men's and woman's baths are separated by a brick wall, and there are separate dressing rooms with coin lockers, a zink and a mirror, like in any commercial hot spring.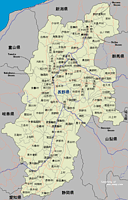 The easiest way to get to Kami-Suwa onsen from Tokyo is by train. From Shinjuku take any train bound for Matsumoto, and then get off at Kami-Suwa station. Do not get through the gate and out of the station, as the hot spring is on the platform. If you didn't bring a towel yourself, you can buy a set with towel and soap at the kiosk on the platform


I had heard about the hot spring in Kami-Suwa station, but for what ever reason, it had escaped my mind. It wasn't untill I went to Kami-Suwa with my boss to visit a customer that I recalled this hot spring and made an attempt to get in it. Unfortunately we had to hurry for our train on that visit, so we didn't get to get in the hot spring.
A few weeks later I was back with my boss visiting the same customer, and this time I brought my "hot spring" towel, and on the way up there I told my boss that we had to finish the visit early so we had time to get in the hot spring. My boss, being an american from New York, had never been in a hot spring at that time, but he liked the idea. Having finished the meeting with plenty of time to catch the train back to Tokyo, we went back to Kami-Suwa station and headed for the hot spring. This hot spring is supposedly a rotenburo, but it was not like we could see the trains from the bath, or as if the passengers in the trains could see the people in the bath. The bath is surrounded by a bamboo fence, and at the top of the fence was a narrow opening. I guess this makes it a rotemburo.
We both got in the hot spring, and although the water was quite hot, my boss also enjoyed it quite a lot. We soaked in the hot spring for a while and got finally back into our suits and ties and headed back to Tokyo.


Other visitors comments and adventures:
Add your own comments or adventures at this hot spring