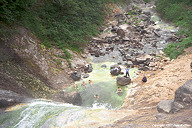 Kamuiwakka yu-no-taki is a free, open air and mixed warm water fall.
Along the water fall there are several small pools with hot water. The best and biggest pools are at the top of the water fall.
Since there are no dressing rooms, etc. people usually undress/change by the pool, or at the foot of the water fall by their car. The climb up the the pools are not difficult, but it is recommended to use the straw samdals which can be rented at the foot of the water fall to prevent from slipping and falling.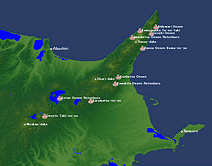 Kamuiwakka Yu-no-taki is located at the end of an 11 km long dirt road which is quite crowded in the summer.
>From Rausu town take route 335/334 over Shireto pass towards Utoro. Comming back down from the mountain, take route 93, the first road on your left. This road will take you to a parking lot and a little rest area from where some trails to a few little lakes starts. Before getting to the parking lot, take the dirt road on your left to Kamuiwakka Yu-no-taki.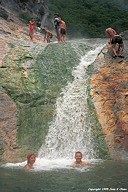 I was on my way to Kamuiwakka yu-no-taki when I suddenly ran into terrible traffic jam. I passed the cars one by one and finally came to the front where I could see a very laid back person on an old custom bike. This person did not seem to be in a hurry, so I passed this person too. Shortly there after I came to the end of the road where there was a parking lot and some toilets. I stopped to take a break, and the person who had been slowing everyone down also arrived, and came to talk with me. It turned out to be a girl on an old Honda who was touring Hokkaido. It turned out that we both had the same plan, so we went together to Kamuiwakka yu-no-taki.
At the end of a long dirt road was a parking lot where we stopped. A girl was standing in a uniform trying to direct every one, and two guys on motorcycles were trying to hit on her. She was quite cute, but they did not have a whole lot of luck.
We got off our bikes and started up the waterfall. The main pool was quite some way up the waterfall, but we finally arrived and got in. There was a lot of people in that pool, and many more outside. It was not the first time I had stripped down in front of many people, so I changed to my swimming suit and got in. The girl was already wearing her's, and got in too. Some people were trying to climb further up the waterfall, and in their effort made small rocks fall into the pool. One person even fell all the way down the cliff into the pool wearing his clothes and back pack.
After having had enough of the water, we walked back down again. The girl was still wearing her swimsuit, but this time with her clothes on it. I wonder if she even slept in her swim suit. I was also wearing mine, but changed to my ordinary clothes by the bike. Just as I was changing a van drowe by, and the kids in the van seemed to have a geat time looking at my naked behind.
Other visitors comments and adventures:
Add your own comments or adventures at this hot spring