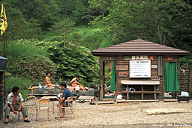 Kawakita onsen is a free and open air hot spring.
There are two tile bath tubs under the open sky. One for men, and one for women. You may wonder why a tile bath has been made in the middle of mother nature, but there actually used to be a hotel or ryokan. The hotel is long gone, but the bath is still standing there just as it was when the hotel was there. The men's and woman's bath are separated only by a tiled wall, which is not high enough to hide the woman from tall blond foreigners. The water is milky white, and being under the open sky you may find leaves and other stuff in it.
There are also separated rooms to undress in with shelves to put one's clothes on.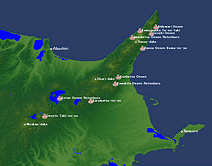 From Shibetsu town, take route 224 north west out of the town towards Shari town. When you get out of the town and into the forest, you will find a little dirt road on your left. If you see a little parking area on your left, chances are you already passed the little dirt road to Kawakita onsen, and you need to go back a little.
Kawakita onsen is about 5 km down the dirt road.


Having left Kunbetsu onsen I headed for Kawakita onsen which is located nearby. I drove around for quite a while and could not find it. Disappointed I finally gave up, and headed instead for Karamatsu-no-yu, which was to be my 5th hot spring that day.
When I left Karamatsu-no-yu the following day I decided to give Kawakita onsen one more try. This time I found the little dirt road which led down to the hot spring, and after a ride, which seemed like an eternity, I finally arrived. There was a little open spot in the forest where people had parked and spend the night. Some people were sitting in the camping chairs enjoying the late morning. They got something to look at when I showed up. At the end of the row of cars I spotted something looking like a little shelter to undress in. As I got closer, I could then see a tiled bat tub and a tiled floor. There were two bath only separated by a tiled wall. I was wondering where all these tiles came from, when I suddenly realized that this was the bath of an old hotel. The hotel was not there any more, but the bath was. I am usually not into hotel and ryokan baths made by man, but now that it was free and out in the open air, it was some thing else, so I jumped out of my clothes and into the hot water. It was indeed nice and warm. It was whitish and a little dirty with dead insects, leafs and other stuff floating around in it. Never the less, I had a pretty good time.
After having enjoyed Kawakita onsen, I went south west through a gorgeous landscpe and finally took a break in Kushiro. It was in the end of the summer holiday, so there were many people on bikes waiting to get on the ferry back to Tokyo or where ever they were going. As I was sitting there, a Japanese guy approached me and asked if I was the big guy on a huge Harley, as he put it, whom he had met the day before near Kunbetsu onsen. Who else could it be! Driving around on Hokkaido in the summer on a bike is a wonderful thing. You meet a lot of people, and even meet the same people several times. It is the perfect place for making a lot of friends.
Other visitors comments and adventures:
Add your own comments or adventures at this hot spring