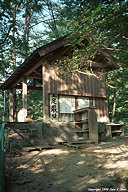 Kawarayu onsen is a free, open air, and mixed hot spring.
There is a little rock bath with room for about 6 persons on top of a hill in the middle of the village. The water is clear and ranges from very hot to nice and hot, depending on how much cold water you let in the bath.
The bath is behind a wooden wall and under a large roof. It is open to the 3 other sides, so it is possible to enjoy the view (of some trees). There are shelves on the wall to to put one clothes, but no place to hide from people in the bath while undressing.



From Shibukawa city take route 145 west towards Kusatsu. You will be driving in the beautiful Agatsuma gorge with the river down in the bottom of the gorge. After driving quite some time in the gorge, you will reach Kawarayu village, and pass Kawarayu station. Take the little road on your left leading into Kawarayu village. You will pass over a little bridge over a little creek, and shortly there after you will see some stairs on your left hand leading up a hill in the middle of the village. Follow the stairs up to the free hot spring.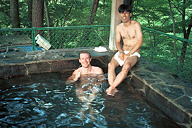 In the early fall of 1995 I went on a trip with 7 colleagues, 3 men and 4 ladies, to Karuizawa. On the way back to Tokyo we stopped by Kawarayu onsen. None of us had ever been there, so we did not know what to expect. We parked the cars and soon found the bath. As soon as the girls saw the bath they refused to get in. There was no place to undress, and they were not going to undress in front of us. We suggested that they went a little up the trail and undressed behind some bushes, but they didn't want to. The girls went down to a public bath in the village, and my 3 Japanese colleagues went with them. There was no way I was going to miss this hot spring, so I stripped down and got in.
The few people who were already there soon left, but shortly after two locals joined me. We had a little chat. While I was talking with the two locals, one of my colleagues came back. Having seen the public bath, he decided to go for the free the hot spring. About 5 minutes after he had gotten in the hot spring, one more of my colleagues showed up. I started wondering how long it would take before the last of my male colleagues would show up. It took about 10 more minutes.
We soaked for about an hour, and then went down to meet the girls and went back to Tokyo. Too bad they were so shy. They will never find out about the great hot spring they missed.
Other visitors comments and adventures:
Add your own comments or adventures at this hot spring