Kokanesaki Furofushi Onsen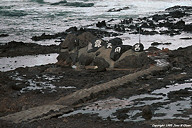 Kokanesaki Furofushi onsen is a free, open air, and mixed hot spring.
Its name Furofushi means that if you get into this hot spring, you will not get old, nor will you ever die.
The hot spring is right on the coast with a beautiful view of the Japan sea. It is a rock bath with yellowish warm water. The water is not too hot, so everyone will be able to get in. There is no place to undress or put your clothes.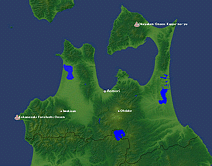 Kokanesaki Furofushi onsen is pretty difficult to find. Actually I didn't manage to find it again myself the second time I was in the area and wanted to get in it again. If you are coming from Aomori city, take route 7 west and the continue on route 101 out to the cost. Continue on route 101 along the Sea of Japan past Ashigasawa town and Fukaura town. Kokanesaki Furofushi onsen is located at the western most point of Aomori prefecture.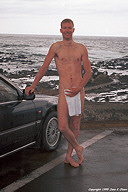 I was there in the late fall of 1995 with 2 of my Japanese friends. One of them had some family in Aomori prefecture which he wanted to visit, so we took a 3 day tour around Aomori prefecture. We arrived at Kokanesaki Furofushi onsen the last day in the morning. The weather was not good. It was very cloudy, and rained a little now and then. We had problems finding the hot spring, but found it finally. We parked the car and could see the bath by the sea. We went down to check it out and found that there was no place to undress or to put our clothes in shelter from the rain. Since there was no one else around, we decided to undress by the car and walk down to the bath with a little towel covering our precious parts. Having walked down the little trail in the cold rain, it was so nice to get in the water. It was nice and warm, and we enjoyed the view of the Japan sea. We took some pictures and at one time I ended up sitting on some little sharp object. It was definitely not a stone, so I reached down to find out what it was. I picked up a little crab. Fortunately for me it was dead.
Having spent about an hour in the hot spring, it was finally time to move on. We got out of the water and headed back to the car with our small towels in front of us. About half way to the car, another car came down towards the hot spring. It passed slowly by us, and inside we could see a woman and a little boy looking very surprised. The car never stopped, but turned around and took off again. What a shame, they really missed a great hot spring.
Other visitors comments and adventures:
Add your own comments or adventures at this hot spring