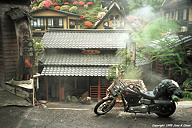 Kurogawa onsen is a hot spring village with many different hotels, each with there own bath. In the village is a little public bath, with separate men's and womans area. Being a public bath, it has space to undress in, and shelves to put the clothes on. The public bath is quite simple, it looks a little like an over size family bath. The water is nice but hot though.



Kurogawa onsen is located in the north eastern corner of Kumamoto prefecture, very close to the border to Oita prefecture. It is located a little off route 442. From Okuni town take route 442 east towards Oita, and you will soon come to Kurogawa town. The hot spring is in the center of the town on one of the narrow streets.


I arrived at Manganji onsen the day after a heavy rain fall, just to find that the little stream flowing through Manganji village had flooded the hot spring. AI house wife doing her dishes in the hot spring advised me to try Kurogawa onsen instead. I soon found Kurogawa village and drove around for a while. According to my information there would be a public hot spring. All I could find was huge and expensive hotels. After a while I found a little wooden building cramped in between the hotels on some thing that seemed like the main street. The street was too narrow for cars to go down, but since I was on my Harley, it was no problem for me.
Being a public hot spring there was an entrance fee of 100 yen, or some thing like that to pay for the maintenance, etc. There were no people to collect the money, but instead there was this mechanism on some thing looking like a cattle gate. I should just drop the money in a box, and then go through the gate. Could it be any more simple. I guess I will never make it as a rocket scientist, because when I dropped the money in the box I tried to go the wrong direction, which of course did not work. When I finally realized my mistake, and tried to go in the right direction, the mechanism shut off, and I was still out side. I had to spend another 100 yen on getting inside.
There were no one else in the hot spring. I got out of my clothes and got in the water. I got out of the water again as fast as I had gotten into it. It was still in the morning, and therefore a little cold, and my body was still a little cold from riding on my Harley. I got in the water piece by piece, first my toes, then my feet, and so on, and finally managed to enjoy the hot water. The water was OK, but the view was nothing to write home about. There was an old wooden wall with a sign on it telling about the hot spring.
Other visitors comments and adventures:
Jens,
I love your onsen page, and it has several improvements over when I visited it last. It looks like you missed the best bath in Kurogawa - the 100 yen mixed bath right down by the river. If you ever go to Kurogawa again, you should find it. Continue down the road from where you found the cattle gate bath - I never went in that one. When this narrow road meets the river, there is a path along the river perhaps 25 meters to "Anaburo". There is a small place to deposit coins just like Shitanoyu in Yufuiin. The single changing place is just inside the door, and the changing place is around the wall from the bath. This bath is well known to Oita and Kumamoto locals, and a good place to shoot the breeze. There is a nice side area for washing or cooling off if the water is too hot and a nice log in the middle to rest your head on. This bath is often mixed as locals come as couples or groups.
The main part of Kurogawa is also nice - but it has become a popular spot for OL tours from Fukuoka, Oita, and Kumamoto. The baths are around 500 yen each and there are no cheap places (under 10000 yen) to stay as far as I know. Kurogawa's hotels seem to try to outdo each other for the size and beauty of their rotenburo, and it is especially nice when the azaeleas are blooming or the maples are turning. In 1997 (when I left Kyushu) there was a wooden pass you could buy to enter three of the rotenburo for 1000 yen - pricy, but nice if you want to see the beautiful baths. I have only entered one of them, and it was superb. Most were konyoku in 1997, but I suspect that as the OL tours continue, there will be more and more separated baths.
For my dollar, it is best to visit Kurogawa in the afternoon, and then camp around Hagenoyu or Takenoyu up Hwy 387 on the way to Oita's Kabeyu Onsen. More nice rotenburo there.
John Dyson
Add your own comments or adventures at this hot spring