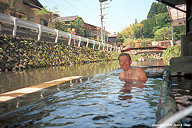 Manganji onsen is a free, open air, and mixed hot spring in the middle of Manganji village.
There are 2 small concrete baths and an even smaller concrete hole where the village house wives wash their dishes and clothes using the hot spring water. The water is clear and not too hot.
There are no rooms or shelter to undress and no shelves to hang the clothes. And since this hot spring is in the middle of the village, you had better not be too shy if you want to try it out.



Manganji onsen can be a little difficult to find, as it is located in a very small village.
From mount Aso, take route 212 north to Minamiokuni town. Get off route 212 and go trough Minamiokuni town west ward towards route 442. About halfway between route 212 and route 442, take another little road south to Manganji village. If you go down through the center of Manganji village, you will drive right past the hot spring, but don't go too fast. The village is very small, and you may very well pass it without noticing.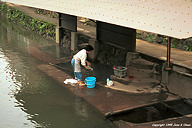 It had rained the day before I first went to Manganji onsen. When I arrived, some lady was washing the dishes in the hot spring water. I went down to check out the bath. The little river just next to the bath had risen due to the rain water and was overflowing the baths. I could see tiny fish swimming around in the ONSEN. Well at least some of them have fun in the onsen today I thought. The lady washing her dishes advised me to come back a few days later to see if the river was back to normal, or to try the nearby public bath and pointed down the river.
I came back a few days later, and the river was back to normal. There was no one around, and the weather was great, so I immediately stripped down and got in. Manganji onsen is not too hot, but not cold neither. The sun was shining on my face and I could sit in the warm water and look at all the small fish swimming around in the little river right in front of my nose. After a while a lady showed up and started washing her dishes in the warm spring water.
Having soaked in the onsen for a while, I finally got out. My Harley had gotten pretty dirty from all the rain and dirt roads, so I decided to do as the locals, and started washing it with warm spring water. It ended up being pretty clean and shining.
Other visitors comments and adventures:
Add your own comments or adventures at this hot spring