The water of Misaki Kaihin onsen is clear and nice and warm. The hot spring is located right next to the sea, but it is covered by a man made shelter, so you will not be able to sit in the bath and look at the sea.
Being inside a shelter, you do not have to worry about people being able to see you from the road when you undress, or when you are in the bath, but being mixed, you will have to undress/enjoy the bath with people of any sex.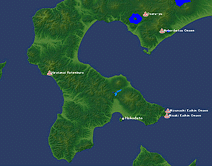 Misaki Kaihin onsen is located on the southern slopes ot the volcano Esan on the eastern part of the Kameda peninsula.
From Hakodate take route 278 all the way to Esan. Then instead of going north of Esan, take the little road, route 635, south of Esan to the end of the road. Here you will find a little parking lot, and a concrete wall with a roof. This is Misaki Kaihin onsen.


My friend Stig and I had being touring Hokkaido for 10 days getting in 15 hot springs, and only had to pay once. It was now the last day of our trip, and before going back to Tokyo, we wanted to get into one more free hot spring.
We arrived at Misaki Kaihin onsen in the evening after the sun had gone down. We went inside and found a few old men and a few old ladies, who all seemed to be locals. There was also a younger foreign guy talking very enthusiastically with one of the locals. Seemed like he had not been in Japan too long.
People kept coming and going all the time, and we got to talk with the foreign guy. He had just arrived in Hokkaido that day and was staying in the nearby Yamada onsen. He was on a bicycle holiday and wanted to see as much of Hokkaido as possible. He had been very tired by the time he finally reached Yamada onsen and had been looking forward to the hot spring, so when the people at the hot spring told him about the free and mixed hot spring by the sea, he just had to check it out. He was so excited about finding a free and mixed hot spring, so we didn't really feel like telling him about the 14 other one's we had just been in, which he would not be able to get in because he was on a bicycle.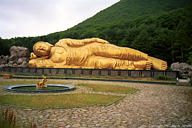 Stig and I stayed on Esan that night in my tent with our heads sticking out of the tent because it is too small for two poeple. We had some extra time the following morning before catching the train back to Tokyo, so we drove around a little on Esan and saw the volcano and some weird hotel which seemed to have been build by some sect.


Other visitors comments and adventures:
Add your own comments or adventures at this hot spring