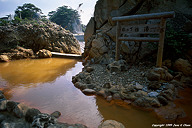 Miyabi-yu is a free, open air, and mixed hot spring.
The water is yellowish and is nice and hot. There are 2 big pools, but for what ever reason every one seems to only use the largest pool to the right of the source.
Near the hot spring is a little wooden shelter with separate rooms for men and woman to change in. There are also shelves and even a few baskets where you can put your clothes in while enjoying the hot spring.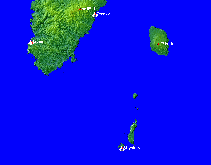 Matsu-no-shita. Miyabi-yu is located on Shikinejima which is one of the 7 islands of Izu. >From Takeshiba pier near Shinbashi in Tokyo take the ferry for Ohshima, Shikinejima, etc. The ferry leaves every night at 22:00 and you will arrive at Shikinejima the following morning around 8:00. Walk to the southern side of Shikinejima, where you will find the hot spring. Strangely enough, Miyabi-yu is not on any of the many maps on Shikinejima, but if you walk towards Ashizuki onsen you can't miss it.


I had been planning a new trip to Shikinejima with my friends, but things weren't going according to the plan. The first time we had to cancel the trip because of a taifu which was threadening to hit Tokyo, and the second time I did not get a whole lot of replies from my friends, and the one's I got were all bad news that they couldn't go. I finally contacted another friend which I had only met twice to see if he wanted to join, and all by coincidence it turned out that he and his friends were planning on going to one of the 7 Izu islands that week end, and I was welcome to join them. Then a few days before the week end, Yoko, one of the girls I had invited contacted me again to find out who was going. She really wanted to go, so she decided to go with me and my friend(s) even though non of our common friends were going.
I left the office early Friday afternoon to buy a new hat and new hiking shoes. I couldn't find a good hat, so I settled for the shoes only. At around 17:45 I left my apartment and headed for the ferry where we were supposed to meet at 21:00. I was sitting in the train at Uguisudani station when my phone rang. It was one of my friends who I had invited. Her and her boyfriend had decided that they wanted to go anyway, and they now called me to find out what the plan was. They only had about 2 hours to pack their stuff and get to the ferry, so they weren't sure they could make it. But they would try.
When I arrived at Takeshiba pier there were tons of people waiting for the ferry, but my friends had not shown up yet. I sat down and waited for a while, and then I suddenly saw a guy looking like Henry, a guy who had been translating in my company a year ago. Could it really be? My friend had said that he would bring his friend Henry, and some more people, could it really be that Henry? So about 5 mins. later my friend shows up and finds Henry. So indeed it was. What a small world.
My friends finally shows up about 15 mins. before the ferry is about to leave, and we all get on the boat. Since we are the last to get aboard, of course there are no room left, so we get the benches on the rear deck where there is plenty of fresh air. Everyone seems to be tired, and the guys pulls out their sleeping bags and go to sleep on the benches. I am having a great time drinking beer and entertaining the girls for a few hours untill we finally decide to also get some sleep.
We arrive at Shikinejima around 9:00 and walk to the other side of the island to a little camp site. Here we put up my tent and throw all our stuff in there. We then go to check out the 3 free hot springs, and we finally end up at Jinata onsen. Here we spend half a day snorkeling around looking at all the fish and what-else in the sea. It was my first time to go snorkeling, and I was very surprised to see how much life there is in the sea. We were in this little bay, and every where I looked, I could see fish swimming around. I saw small blue fish, I saw some green fish, and at one point I saw a steam of silverish fish. I was swimming after the steam and I could almost touch the fish. We had a wonderful time swimming around looking at the fish.
We finally had enough of snorkeling so we went back to Miyabi-yu and soaked there for a while. When we arrived there were already a group of local gentlemen in the hot spring. We decided to join them and changed in to swim suit and put our feet in the hot spring. Whau... This hot spring was certainly hot. It felt like we wouldn't be able to get in it, but it actually wasn't that bad. When we first sat down, it didn't feel that extremly hot any longer. We soaked there for a while until it got dark, and realized how lucky we had been with the weather and everything. Our trip to Shikinejima couldn't have been any better.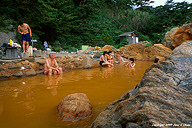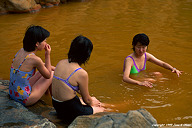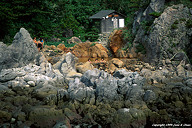 Having had enough of the hot spring, we finally got back to my tent and changed before we went out to get some dinner. We managed to find a little place which was still open, and had dinner before we went back down on the beach to sleep. We had a few beer, ate some snack and shot some fireworks before we put up our tents and got ready to go to bed. Since it was only the second time for Yoko to go camping, she didn't have a tent, nor sleeping bag, so I brought an extra sleeping bag for her, and she slept in my tent. It was only the third time I meet her, so eventhough we knew each other, we didn't know each other that well, and I was a little concerned about how she would react sleeping in the same tent as me, especially since I don't wear anything but my pants when I sleep.

When we got in the tent we had to open the door to get some air circulation. It was so hot in the tent, and it would actually have been better to sleep out side if it wasn't for all the unfriendly mosquitos. We got in our sleeping bags, but after a while it was just so hot that I had to get back out of it, and I was now lying there almost naked next to Yoko. I don't know how she felt about that, but the few mosquitos that made it into our tent really enjoyed it. When I woke up the following morning I had red spots all over my body, and it was itching like crazy.

Yoko and I got up at 5:30 the following morning and went for another swim. Like the day before there were lot's of fish, and we even saw a moraine that was lying yawning on a rock. After our swim we joined the other at Miyabi-yu, and we finally went back to catch the ferry to Tokyo.

Other visitors comments and adventures:


Relaxing on Shikinejima (Skinny Island) by Ivan Chung

Add your own comments or adventures at this hot spring