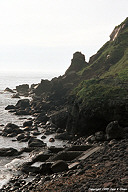 Mizunashi kaihin onsen is a free, open air, and mixed hot spring.
It is right on the beach with a view of the sea. There are 4 crude, concrete square bath tubs half-full of hot spring water. The nigh I got in, the temperature was comfortable warm.
There is no place to undress and put one's clothes except for on the rocks on the beach.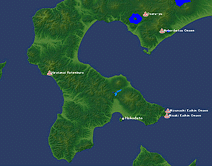 Mizunashi kaihin onsen is located on the eastern tip of the Kameda peninsula between the volcano Esan and the sea.
Take route 279 to Todohokke village and follow route 231 through the village, past the harbour and op a hill to some hotel. Continue past the hotel, and you will find Mizunashi kaihin onsen on your right.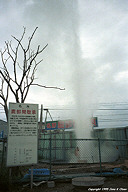 Mizunashi kaihin onsen was the first hot spring I got in in Hokkaido. It was late in the evening when I arrived, and I was pretty cold because I had not brought enough clothes. As I got down to the hot spring, a family was just getting in their clothes. We exchanged a few words and I stripped down and got in. The water was not that hot, more like luke warm, but it was nice anyway. I moved down into one of the other concrete squares closest to the sea and sat there for a while. I could hear the waves, and before I knew it, feel them too. There was not any bottom end in the concrete square, because as the waves hit it, the water level rose a bit, and it got significantly colder than before. I escaped out of that concrete square and went back to another warmer one.
The moon was full and I enjoyed a beautiful view of the sea. As I was sitting in one of the concrete squares it looked almost as if the walls were alive, they seemed to keep changing texture. I found out in the morning, after going again, that there were cockroach-looking insects all over the walls. It kind of took the enjoyment out of the hot spring, so I would strongly suggest other people not to get in this hot spring until it gets dark.


Other visitors comments and adventures:
Add your own comments or adventures at this hot spring