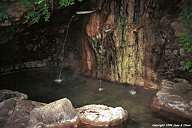 Ogawa motoyu onsen is a mixed cave bath belonging to Ogawa motoyu onsen hotel.
Half of the bath is inside the cave and half is outside. The half part of the bath out in the open has 3 tubes with water falling down where you can get a massage of your shoulders. The water is clear, but not too hot.
There are segregated dressing rooms for men and woman, but the bath is shared. It is located a little away from the hotel in a little gorge, so although it is part of a hotel, the feeling of being in the middle of nature is well preserved.



Take route 8 running along the Sea of Japan in Toyama and Niigata. When you get to Asahi town in north eastern Toyama take the only road leading into the mountains. At the end of this road you will find Ogawa motoyu onsen.


I finally arrived a Ogawa motoyu onsen after a long ride in the Golden Week holiday of 1994. I had left Tochigi and gone through Nagano and Niigata where it had rained. I had hoped that the weather would be better on the other side of the northern Alps, which it also turned out to be. Having finally reached Toyama prefecture I took a little break by a convenience store to get some food and to look at my map. As I was sitting on my bike reading my map, I noticed a shadow indicating that there was some one behind me. I turned around and saw two young boys in their school uniforms. One of them was little and skinny, while the other was big and fat. The little and skinny was pretty cool, while the big and fat was overly exited about being face to face with a real foreigner. A little further away was an ugly girl, one of their friends, hiding behind the corner of the convenience store, probably being afraid that I would rape her. The little skinny boy spoke a few simple sentences in English to me, while the big fat boy was too exited to be able to stand still. I guess they do not see too many foreigners up there.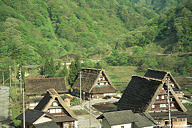 At the Ogawa motoyu onsen, I paid the fee for getting in the cave bath and went to find it. I was instructed to go behind the hotel, which I did, and I soon found it. There were already quite a few Japanese in the bath, among which two were woman. Since I had not been in a lot of hot spring at that time, I was a little shy, but went to the dressing room, stripped down, and only wearing my little towel in front of my precious parts, went into the bath.
One of the woman, wearing a big towel wrapped around her several times, soon left with her husband. The other woman, who were probably around 35-40 years old, now moved to a little in front of me. She was also wearing a towel, but it was not wrapped around her to hide her completely. She was just holding it in front of her to hide her female attributes. From where I was sitting, I could just get a glimpse of part of her breast. I must admit that it was exiting taking a bath with a totally unknown woman. Especially because it was the first time, and she was quite attractive. I guess she felt kind of the same way, because when her husband wanted to leave, she did not want to.



Other visitors comments and adventures:
Add your own comments or adventures at this hot spring