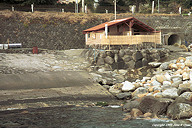 Ohgawa onsen is a little public open air hot spring by the sea on Izu.
The water ranges from very hot to cool, depending on how much you open the tap. The source of the water is located a little away up the mountain, so the water is being heated before it is led into the bath.
There are segregated woman's and a men's bath with dressing rooms and shelves to put one's clothes. The entrance fee is around 500 yen.



Ohgawa onsen is a little hot spring located just south of Itoh city. From Itoh city go south on route 135 past Akazawa onsen. You will see a large hotel on your right, and on your left you will see the public hot spring in a little bay. This is Ohgawa onsen. Go down the little road towards the hotel, stop at the parking lot, and walk through a giant concrete tube to get to the hot spring.


I had seen this hot spring on one of my trips to Izu, so one day I finally decided to go and try it out. I went there on a national holiday in the fall, and the roads were not too crowded. Having gone through Ito city, I finally came to Ohgawa onsen. I could see it from the road, but I could not really find the road down to it. I looked around, and spotted a narrow road on the other side of the road. I went down that road and ended by the parking lot of some hotel. The hot spring was on the beach on the other side of the main road, and there was only a large concrete tube leading to the hot spring.
I turned out to be the first customer that day, so I got a little extra service. Having been on my Harley, I had been cooled down so I could not get in the bath right away. The guy running the hot spring turned on the cold water and started mixing the water for me. After a while it got better so I could get in. Having been in it for a while, the guy now turned on the hot water and started mixing it again. Now that I had gotten in, he figured that I could take some hotter water. He threw in a small thermometer and checked the temperature carefully. It was great sitting there being treated like a little wet king.
Other visitors comments and adventures:
Add your own comments or adventures at this hot spring