Kawayu Onsen. Sennin-furo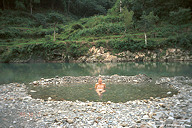 Kawayu onsen, sennin-furo is a free, open air, and mixed hot spring.
The source of the hot water is located in the middle of a river, and at the correct season it is possible to sit in the river and enjoy a bath. At the river banks are small enclosed areas where the hot spring can be enjoyed even when the river is high, and therefore not so hot.
There are no sheltered places to undress, nor any places to put one's clothes other than on the surrounding rocks, and since the rived flows down through a little town, it feels like stripping down on main street. However, at night, no one can't really see any thing.



Kawayu onse is located deep in the mountains in Wakayama prefecture. If you are coming from Shirahama onsen or in that direction, take route 311 towards Hongu town. Defore getting to Hongu town follow a little road on your right leading to Kawayu onsen. When you get to Kawayu onsen, continue to the river that flows though the village, and you will be right in front of the hot spring(s).


I visited Kawayu onsen in October of 1995 on my tour of the Kii peninsula. I arrived late in the evening after having visited Shirahama onsen, and immediately checked in at the nearby camp site. It had been raining and everything was pretty wet. I set my tent up in the mud and headed for the hot spring. I had passed it on my way to the camp site, so I knew exactly where it was. I had come into the town on the main road, which took me along the river, form where I could see the hot spring on the other side.
I decided to try the little man made bath by the river side first before getting into the river. There were already a few guys in that bath, and they all seemed to be sitting on the edge of the bath rather than in it. I soon found out why. The water was pretty hot, and I certainly needed some adjustment before I could get all the way in. While sitting in the bath, two of the other guys decided to jump in the sennin-furo: the river. They went for it, but came back again pretty fast. It was too cold to be enjoyable, so I guess the sennin-furo is only good in the winter when the water level is really low.
I got up early the following morning and headed for the river again. I had seen some other small holes in the river the day before which I wanted to try out. One of them was right in front of a big hotel, and I did attract some attention when I stripped down and got in. But it was worth it.
Other visitors comments and adventures:
Add your own comments or adventures at this hot spring