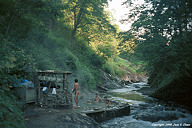 Shika-no-yu rotenburo is an open air, mixed hot spring.
It is located in a little gorge next to a small river. There is one rock pool with room for about 10 people. The temperature is nice and hot without being too hot.
There is no rooms or shelters to undress in, but only a tiny wooden roof to put one's clothes under.
Further down the dirt road are 5 other small hot water holes which are much more primitive.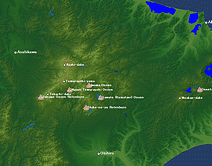 Shika-no-yu rotemburo is located in central Hokkaido. Go towards Shikaribetsu lake. If you are comming form the south, then go north on route 274. Continue on route 274 untill it turns into a dirt road. Continue up this dirt road until just before you get to Kanno Onsen. Before Kanno onsen, follow the dirt road to the rigth. The dirt road will soon split into two. Follow the one on the left to get to the camp site and Shika-no-yu rotemburo. Follow the dirt road on the right to get to the 5 other small hot springs. Stop in about 200-300 meters and follow some very small trails in the forest leading down into the gorge on your right.
If you are coming from the north, follow route 85 and take the little dirt road on your right side before Yamada Onsen. When you get to Kanno Onsen, go back as described above.


I went down a dirt road for a while and came to Shika-no-yu rotenburo. There was already a lot of bikes parked, but as usual I attracted quite some attention driving on a dirt road on my Harley. There is a camp site by Shika-no-yu rotenburo, so I decided to spend the night there. I paid the fee, which is very cheap, and unpacked my Harley. A girl had parked next to me, and we started talking. She was from Sapporo, so she was used to the hot springs in Hokkaido. She asked if it was like this in the rest of Japan. Oh I wished, but unfortunately not. I told her that good hotsprings are still around, but they are getting hard to find outside Hokkaido.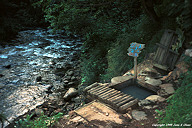 I put up my tent and I knew that there was a lot of small hot springs in the area, so I got on my Harley again and went further down the dirt road. I found a couple of small water holes. One of them was supposed to be very famous, except that it was not the impression I got from looking at all the people in it. It was empty. It was a very small, square, wooden bath tub half up a cliff. It would only fit one person, two if they we VERY good friends. At the foot of the cliff two couples were in another water hole just next to the river. I thought I would not disturb the other people, so I decided to go for this famous water hole with the nice view. I stripped down and prepared myself to get in. Oh no! This was one of these extremely hot springs again. I tried to get in, but my body would not. I never got further in than my toes. It was simply too hot. Well, too bad for the people down in the other water hole; they would have to share with a foreigner. I went down there almost sliding down the cliff on my behind because of the slippery ground. The two couples were very nice. I stayed there and talked with them until they left. The man of the older couple told me about a few other water holes nearby. I checked these other holes out after, but did not get in. The first one I was in was the best.
I went back to the camp site and started writing on my map. I always draw a black line on the roads on my maps to remind me where I have been. During this, 4 young Japanese guys approached me and cautiously asked me what I was doing. I answered that I was writing on my maps. They were very surprised and a little nervous to find a "big foreigner" wearing black leather and having a red beard sitting at the table by their tents, as they put it. I told them not to worry. I might look nasty, but I am not the kind of person who hurts people. We talked about hot springs, and one of the guys turned out to have a pretty good magazine about hot springs. I borrowed it and learned about a few new places.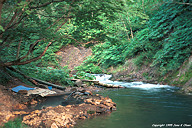 When it got dark I got in Shika-no-yu rotemburo and soaked for about an hour or so while listening to beautiful voices of young Japanese girls. Now that it had gotten dark, and since there was no light at the hot spring, they were not that shy any more and could also enjoy the hot spring.


Other visitors comments and adventures:
Add your own comments or adventures at this hot spring