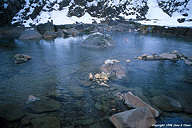 Shiriyaki onsen is a free, open air, and mixed hot spring in the mountains in Gunma.
The hot spring is in the middle of a little river, and it is therefore best to visit it when the river is low. Otherwise it can be pretty cool. Fall and winter are the best seasons. Spring is to be avoided.
It is possible to undress/change in the cover next to the little sheltered pool, but there are no segregated dressing rooms. Men and woman undress next to each other. People usually undress by their cars and jump in the stream in swimming suits.



North of Shibukawa city take route 353 west. Route 353 will run into route 145 around Agatsuma town. Take route 145 towards Kusatsu. When you get to Naganohara Kusatsu-guchi, take route 292 north. Continue on this little mountain road until you get to route 405. Do not get on route 405, but continue straight. After a while you will pass a large ryoukan. Continue about 500 meters further down the road until you drive over a little bridge. The road will now suddenly narrow, and on your left you should have Shiriyaki onsen.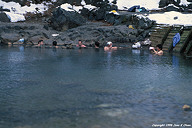 I have forgotten how I first got to know about Shiriyaki onsen, but usually people know it from TV. When I first went there it had just been on TV the day before, and there was therefore quite a lot of people. They were all wearing swimming suits, so I decided to do the same.
I got in the stream in a corner where there were not to many people. The water was nice and warm, but not too hot. It was more like a luke warm stream rather than a hot spring. Nearby a party of two elderly couples were sitting having a barbecue in the stream. One of the men spotted me and started to speak to me in bad English. I answered him in Japanese. Then, he really got in to it, and got pervert. He said "This is a hot spring, you should not wear a swimming suit", "Let's see it", "How big is it?", and so on. As he was saying all this, he was holding a little sausage in his hand, and he now proudly was saying "A Japanese is like this". I answered him that, if that was the case, he had nothing to be proud of. His wife was sitting nearby, and she now broke out in laughter. I am afraid I ruined that man's day.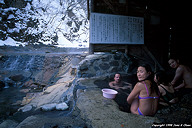 The third time I went to Shiriyaki onsen we were 7 guys and 3 girls. We arrived around noon, and headed immediately for the hot spring. We got in in swimming suits, and there was already a japanese guy there. This japanese guy was only wearing a little towel, and he seemed to get excited when the girls got in. One of the girls had brought a camera, and after taking some photos herself, she then asked the japanese guy to take a photo of all of us. The guy first tried to shoot us while still sitting in the hot spring, but couldn't really get us all in the photo. He then stood up, still in the hot spring, covering his private parts with his little towel. He finally realized that he had to get all the way out of the hot spring to get us all in the photo, and being polite as the japanese usually are, he then started climbing back out of the hot spring. In doing so, he had to let go of his private parts in order not to fall, and when he did, we could then see what he had been trying to hide. The presence of the girls had obviously excited the poor guy quite a lot, and he was now standing there all naked taking a photo of us, and pointing at us with his 11th finger. We all broke out in laughter at the sight, and the guy got back down into the hot spring feeling very embarrassed saying "Small, but poserful".


Other visitors comments and adventures:
Add your own comments or adventures at this hot spring