Shuzenji Onsen. Dokko-no-yu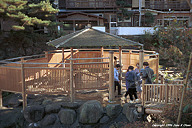 Shuzenji onsen, Dokko-no-yu is a free, open air, and mixed hot spring in the center of Shuzenji town. It is in a little concrete/rock island in the middle of a river. The hot spring is surrounded by a bamboo fence, but it might as well not be there, because it does not help to keep any privacy.
The water is very hot, so unless you are used to very hot water, do not expect to get in. Chances are that you will never get that far anyway, unless you are used to taking a bath surrounded by 50 dressed tourists taking photos. Shuzenji onsen, Dokko-no-yu is a very famous hot spring, and since it is located close to to Tokyo, you can be sure that there will always be a lot of people around. Your chances of a little privacy may be better in the evening or late night though.



Shuzenji onsen is located in the northern part of Izu. From Mishima city take route 136 south. You will soon find Shuzenji onsen.


It was on my trip around Izu on bicycle that I got to Shuzenji the first time. I had been passing a lot of hot springs without knowing about it, and was looking forward to getting in Shuzenji onsen. I rolled down a mountain, it must have been at least 10 km, and got cooled down by the wind. When I finally got to Shuzenji I was looking forward to getting in the hot water. When I saw the hot spring I changed my mind quickly. At that time it seemed too open for me to get in.
About 4 years later my road went by Shuzenji again, and this time I was definitely going to get in it. By now I was used to getting stared at, and being a foreigner, you can usually get away with quite a lot of things. I did have some second thoughts though when I arrived. There were some big busses and tons of tourists in the hot spring having there pictures taken. I waited until the buses took off, with all the tourists, and went in when there were only a very young couple and 4 ladies and a taxi driver explaining for the ladies and taking pictures. I started undressing, and every one were starring at me. They asked if I was actually going to get in the hot spring, and I felt like answering that I was just feeling very hot, that was why I was undressing in a hot spring. They all left and I was now only wearing my pants. I pulled them down, and as I did, I could hear the 4 ladies clapping there hands from outside!
Stripping down was not the worst part of it. I had already noticed the steam over the hot spring, but being an experienced hot springer by then, I had not been concerned about that. It was not until I put my toe in the water that I realized how hot the water was. "How could people get in that water?" I thought. Maybe it was not because of all the tourists any way that no one else were in the hot spring.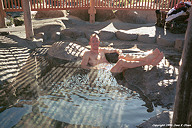 I finally managed to get my behind in the water and ended up sitting there with my feet and hands out of the water. While I was sitting there a new bus load of tourists showed up. When they realized that there was actually some one in the hot spring (what else are hot springs for?) they had enough sense to stay outside and not get all the way inside the little fence. One man could not control his curiosity though, and came all the way in. When he could not even be polite and stay outside, I thought I might as well put him to some use, and I had him take some pictures of me.
The water was just to hot to make it possible to stay there and enjoy it for hours, so I soon got out again. I had not gotten more than my pants on until there were suddenly tons of tourists inside the fence abusing the hot spring. I wonder what they would do if a bunch of people suddenly showed up and behaved the same way in their bathroom.


Other visitors comments and adventures:
In 1952 as a G.I. with the 64th. Engineer topographic Battalion stationed in the Isetan Dept. store in Shinjuku, The sgt. in charge of the darkroom section took a bus load of us to one of his favorite get away spots for the weekend. Yep, to Shuzenji. Back then there was no fence around the pool, just this little dammed off circle of hot water in the middle of the stream. When in Rome, or Shuzenji, do as the natives do. So we did. It was as I recall, pleasantly warm and we soaked awhile and then rolled over the side into the cold stream. When we got chilled, it was back into the comforting hot spring again and again.
Continuing the rest of my experience at Shuzenji, The natives in the spring and we G.I.'s minded ours and a delightful time was had by all. Just as the co ed toilets in public places, one minded their own business. Shuzenji will never be forgotten by this ex G.I. We took a couple of photos of us frolicking there the evening we got there and again the next morning. Fifty years ago. Seems like it was only yesterday. I lived in the Isetan dept. store for 18 months. The U.S. govt left the Japanese have the bottom two floors for their retail and we took over the rest of the bldg. for mess hall, sleeping , darkroom and printing presses.
Anonymous
Add your own comments or adventures at this hot spring