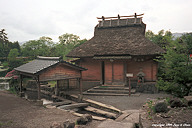 Yufuin onsen, Shitan-yu is a public, open air and mixed hot spring.
It is located in the town by a little pond. It is half inside an old wooden building and half out side. As such there is a place to undress and shelves to put one clothes on, but men and woman has to do it together. The bath is a build up rock bath with small rocks on the bottom. The water is nice and hot. This is one of the more idyllic hot springs in Japan, a hot spring where you should bring your family if they do not mind getting naked among strangers of both sexes.



Yufuin onsen is very easy to find. It is a little town located a little west of Beppu city. When you get to Yufuin town, just look for and follow the signs for Shitan-yu. You can't miss it.


It was on my trip around Kyushu in 1995 that I visited Yufuin onsen, Shitan-yu. I had read about it in several books, and had gotten the impression that it is quite famous. This was confirmed by signs in Yufuin showing the way to Shitan-yu. When I entered to old building in which the bath is, I only saw a few men. Although the bath was famous, it obviously was not too crowded. I undressed and got in the bath. I said hello to the guys in the bath in Japanese to let them know that I would be able to speak with them in their language. This usually has a good effect, as people get currious and start speaking to me. As usual they asked me where I was from, and I explained them a little about my country Denmark.
The bath was really nice. The water was nice and warm, and the view of the little pond was not bad at all. Being in a nice place like that, I was in no hurry to move on, so I just relaxed and let time go by. Several people came and went, and I had to explain about Denmark several times. By the time I finally left, I was sure that everyone knew every thing that is to know about Denmark. However, I soon learned that I was wrong. I had put on all my clothes, and just gotten out of the door when I could hear one of the guys in the bath asking one of the other guys where I was from. To my surprise the guy answered SWEDEN! The Swedes owe it all to us Danes.
Other visitors comments and adventures:
Add your own comments or adventures at this hot spring