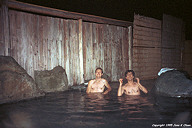 Tochio onsen is a free, open air hot spring in the the northern alps.
The bath is quite big, and there is also a large open space right next to the bath. The water is pretty hot, so it will be quite enjoyable even in the winter.
The men's and womans baths are separated by a wooden wall with many little holes in it. There are of course separate areas to undress in with plenty of space to put one's clothes.



If you come from Matsumoto, take route 158 to the other side of the northern alps. After passing Anbo pass it will go down towards Hirayu onsen. From Hirayu onsen take the road north towards Tochio onsen.


My friend and I arrived at Tochio onsen in the early evening after the sun had gone down. We had already been in one hot spring that day, but it had not been the free, open air, and mixed hot spring we had been looking for. When we came to Tochio onsen we decided to give it a try. We could see that it was not mixed, but at least it was free and open air.
The water was pretty hot, so we could not stand being in it too long at a time. While we were there other people showed up, got in the hot spring and left again. We interrogated them all to find out if they knew about the free, open air, and mixed hot spring which should be in this area. Nobody knew, but one guy recommended us to go to Hokkaido. He told us that there are a lot of free, open air, and mixed hot springs in Hokkaido. Then he suddenly told us to watch out for the bears! "You do not want to be surprised by a bear", he told us. This conversation was a little strange I thought. I asked why he said that. Had he ever met a bear? It turned out he had not, so I wonder if this guy knew what he was talking about!
We left the hot spring again after having peeked a little through the cracks in the wooden wall, and went to a nearby restaurant. Here we happened to read a hot spring magazine, and we finally found some directions to the free, open air, and mixed hot spring.
Other visitors comments and adventures:
Add your own comments or adventures at this hot spring