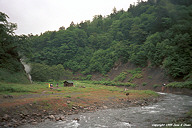 Nupun Tomuraushi onsen is a free, open air, and mixed hot spring.
Nupun Tomuraushi onsen has two baths. One is a wooden bath tub with room for about 8-12 people at a time. The water is clear and the temperature can be adjusted from too hot to nice and hot by a big valve in one of the corners of the bath tub. When you get in, get in at the opposite side of this valve, or you will be very surprised that people can stay in the bath. Besides the wooden bath tub, there is a little bath in the river only separated from the river by small rocks. You do not find any hot springs more "natural" than this one, except for the ones you dig yourself.
Just next to the wooden bath tub is a tiny wooden hut to undress in and put ones clothes. Men and woman undress together.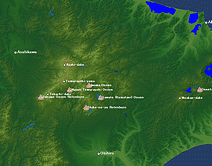 From Shimizu town in central Hokkaido, take the local route 718 going north into the mountains. Continue on this road up through a pretty gorge next to the river until the road splits. You now have the option of going to Tomuraushi onsen, or to Nupun Tomuraushi onsen. Take the dirt road on your right and continue for about 13 km until it ends at a clearing in the mountain. This is where Nupun Tomuraushi onsen is.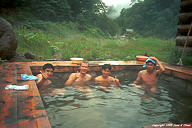 Nupun Tomuraushi onsen was my second hot spring during my trip to Hokkaido in 1995. I had read in some books that there would be a free hot spring in this area, so I went there without knowing exactly what to expect. After having gone down a paved road I finally got to the point where it changed to a dirt road. The road split into two, and there was a sign saying Tomuraushi onsen in one direction, and Nupun Tomuraushi onsen in the other. I went for Tomuraushi onsen. The dirt road seemed not to have an end, but finally after 13 km I arrived at Tomuraushi onsen, which turned out to be a ryokan hot spring. What a shame. I had gone 9 km on my Harley on a dirt road just to find out that there was no free hot spring. Now I had to go 9 km back again! I was standing there by the entrance to the ryokan, when a group of people came out. They were also on bikes and seemed to be interested in hot springs, so I got to talk to them. They told me that Nupun Tomuraushi onsen was more like what I was looking for. They also told me about two other interesting hot springs, but they did not give me the exact location nor the names. I put two dots on my map indicating where these mysterious hot springs should be, and I actually managed to find them later on my trip.


When I finally got the 9 km back out again, I did not really feel like going 13 more km down another dirt road. However, my purpose of going to Hokkaido was to get in as many "natural" hot springs as possible, so I went for it. This road was worse than the other, but after 10 km I finally arrived all splashed in mud. To my pleasant surprise there was nothing there except a little river, an open field, a wooden hut on the field, and people camping near by. I went to check out the wooden hut, and it turned out to be a shelter to undress in before getting in the hot spring just next to. I immediately went for the hot spring. I must have sat there for around 2 hours, and many people came and went while I was there. Before I left, a young man came with his girl friend, and they both got in wearing nothing, like every one else. I guess there are some Japanese girls who are not too shy to get in a hot spring naked with naked men. That was a pleasant surprise. They were nice to talk with too, and it happened that I met them again later at another hot spring.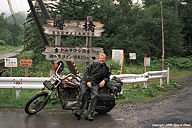 Before getting into the wooden bath tub, I had noticed something looking like a little bath in the river, only separated from the river by a small circle os rocks. I remembered having seen a picture of a guy in that bath in one of my books, so I decided to try it out too. I got a hold of a guy who was just getting back into his clothes, and had him take some pictures of me in that bath too. When I got in, I immediately realized why there was no one else in the bath. It was very cold and very dirty, so I got back out as soon as the guy had taken the pictures.
Having been in the hot spring, the trip out on the dirt road was suddenly not that bad any more.


Other visitors comments and adventures:
Add your own comments or adventures at this hot spring