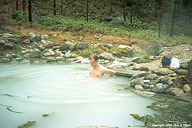 Yumata onsen is a free, open air, and mixed hot spring deep in the northern alps.
There are two small pools near a lodge with warm milky white water. If you continue down the river, you will find the source of the hot water. There is no bath or natural pools, but you will be able to make your own little pool in the river and mix in the hot water.
Since this is in the middle of nature, don't expect to find any shelters to undress in.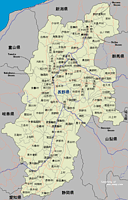 From Ohmachi go west into the northern alps towards Nanakura dam and Takase dam. You will not be able to continue by car beyond Nanakura, so stop here and walk the rest of the way. The first half of the way to Yumata onsen is an easy walk on a paved road along the dammed river. The last half is on a trail in the forest. The walk is quite long, it took me 5 hours, but not difficult.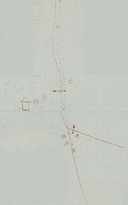 Before my Golden Week holiday in 1994 I had investigated a lot of maps to find inaccessible hot springs. I had found Yumata onsen in the northern alps in Nagano. There seemed not to be any roads into the hot spring, so I assumed that there would not be too many people.
I arrived at Nanakura where the road ends and went into a little hut where I could get some information. There was an old guy who did not seem too excited by my presence. I asked him about Yumata onsen and he answered that it was closed. I told him that I was going anyway, and it was as if he came to life. He now explained very enthusiastically that if I went further down the river, I could dig a hole, mix the hot water with the cold river water, and make my own bath. That sounded just like my cup of tea. He made me a map, and I went to unpack my Harley. As I was getting ready to go, the old man came out and gave me a new map. He thought the other one was not so good, as he said.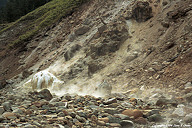 It took me about 5 hours to walk in to Yumata onsen. I raised my tent and went immediately to the place the old man had told me about. I had not brought any shovel, so it was difficult to make a good bath. I made one by damming up the cold river water with rocks. I then stripped down and got in. The cold river water was coming in on my left mixing with the hot water from the right. Unfortunately it did not mix as well as I had hoped. The cold river water was freezing my whole left side, while the hot water was boiling my right side. I was trying to enjoy it by turning over now and then, so my right side could be cooled down, and my left side could be heated up. If nothing else, the surrounding nature was very pretty, and it was pretty exciting lying in the cold river wearing nothing. Next time I will bring a shovel though.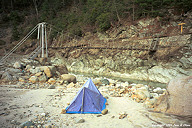 To my surprise, I was not alone at Yumata onsen. A few other people had put up there tents, and some had even entered one of the small huts, which had been left unlocked. After making dinner, I went to bed in my tent. It started raining in the middle of the night, and my tent was not water proof. The rain could get in, but it could not get out, so I soon stated swimming around in my tent. I abandoned it and sought shelter under a half roof by the lodge. I was waiting for the rain to stop while I was freezing. I thought to myself that I might as well jump in one of the small pools by the lodge. I would still be wet, but at least I would not be freezing. So I did. I was in the pool for about 3 hours. It was nice and warm. The weather started getting better, so several people started coming out of their tents, so I had a little chat with them. The weather now seemed like it would not rain any more, and I decided to finally leave my little hot water hole and hike out, back to my Harley. As I got ready to leave the area, I saw several people getting into my little pool. I wonder if they were just waiting for me to leave.


Other visitors comments and adventures:
Add your own comments or adventures at this hot spring