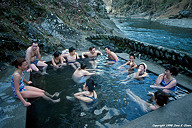 Yunokami onsen is a free, open air, and mixed hot spring. It is located in a little gorge, and is nothing more than a square concrete hole with a tiny stone wall surrounding it.
The water is clear, and quite hot. The temperature can be regulated by either removing a thick plastic tube, from where the water comes from, or by putting it in the bath. There are no dressing rooms to undress in. People undress next to the bath and put their clothes on the surrounding rocks.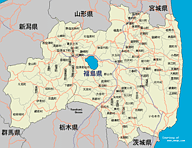 >From Aizuwakamatsu city take route 118 south towards Tochigi prefecture. Route 118 goes through Yunokami onsen. When you get to Yunokami onsen pass the station and then start looking for the free hot spring. It is pretty difficult to find, but look at the southern end of the village for a tiny road leading down into the gorge. Good luck!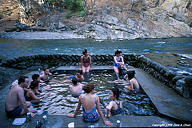 It was late fall when I went to Yunokami onsen the first time. I left Tokyo early in the morning on my Harley, and really started freezing when I started climbing the mountains in Tochigi prefecture. I continued on the expressway into Fukushima prefecture, and found at last the road that would take me over a few small mountains to Yunokami onsen. I was looking very much forward to getting in the hot water; if I could find it.
I finally got to Yunokami village and drove around a little trying to find the hot spring. I had no maps or anything showing exactly where the it should be, and I was not even sure that there would be a free hot spring. Since hot springs very often are located by rivers, I concentrated my search on the gorge with a river in the bottom, which split the village into two parts. I came to a steel suspension bridge from where I thought I could get a good view of the gorge, and got off my Harley. I could not see anything looking like a hot spring one the one side, but on the other side, I could see a little square concrete hole with water in it. Could this be the free hot spring that I was looking for? There were no other people, and it did not look as if there had been any for quite a while. It all seemed very deserted.
I managed to find a tiny road twisting down the side into the gorge, and got all the way down on my Harley without getting myself killed. I went to check it out, and to my pleasant surprise, it was nice and warm. There was no way I was going to miss this hot spring the way I was freezing. I stripped down, and got in the water. I got out of the water again as fast as I had gotten in. After my long bike ride and, being as cold as I was, the water felt like boiling. "Oh my God" I thought. Had I come all this way just to miss a great hot spring just because I was freezing my butt off ?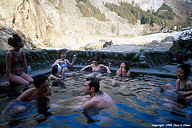 I sat down next to the hot spring and put in one toe. About 5 minutes later, I put in another toe, and continued like that until I finally had both feet in the hot spring. After about half an hour I finally decided to just go for it, and jumped in again. This time I managed to stay in for about 30 seconds. After having jumped in and out like that a couple of times, I finally got used to the hot water and could then stay in it and really enjoy it. I was sitting there looking at the river rushing by, looking at the suspension bridge far over my head, and looking at the people standing on the suspension bridge staring down at me, and thinking "What is the matter with them. Have they never seen a foreigner in a Japanese hot spring before?".
Having spend enough time in the hot spring to be heated up for the trip back home, I finally left Yunokami onsen thinking what a great thing there are still real hot springs close to Tokyo.


Other visitors comments and adventures:
Add your own comments or adventures at this hot spring