Nanahane MTB circuit (97.5km, 2500m climb, 7.5hr) 「七羽山」
Category: Road: 73.95km, Dirt: 20.75km, Hike trail: 2.8km
Route: Ome, Nariki, Naguri, Arima dam, Arima-toge, Tenmoku rindo, Nanahane yama, Nanahane shoulder, Ogawatani rindo, Nippara, Okutame, Ome
Map:

Elevation:


Notes:
This route needs to be done anti-clockwise.
The start of the hike trail climb section is very steep and the trail is not very clear. However, after descending onto the prefecture border ridge, the trail is good. Most of the trail descent can be done on MTB - the surface is very smooth and it's all downhill. There are many sharp switchbacks requiring stoppage at the corners but you can still descend with similar time to a moderate running speed taking about 30 mins. A fast trail runner can descend in just 20 mins.
There may be an easier route from Tenmoku rindo up onto the prefecture border ridge, but not evident without further investigation. The mapped route is marked on the Okutama hiking map and starts at the first peak on Tenmoku rindo so is easy to locate (see photo below with red marker at trail start).
If you continue on Tenmoku rindo (beyondthe Nanahane yama trail start) after about 200m you reach a switchback with an excellent view of Chichibu town and area.
The Okutama hiking map which I have (1995 version) incorrectly shows Nanahane shoulder as Gonba shoulder causing some confusion - Nanahane shoulder is the one which descends from Nanahane yama almost directly South, joining Ogawatani rindo higher up than Gonba shoulder.
The trail along the prefecture border ridge from Nanahane yama to Toridani yama is pretty good and has many relatively flat sections with very low elevation but the alternative descent from Toridani yama along the river is definitely not suitable for MTB with many steep muddy and steep rocky sections as well as much climbing involved in the descent - Nanahane shoulder seems to be by far the best option down to Nippara.
In order to make a circuit (instead of returning on the same first 6km), you can return from Kosawa tunnel via Fukiage toge along the same outward route as the Hinatasawa-toge circuit. - in retrospect I should have used data from this route above but unfortunately it is not possible to update without mapping all the points again from the start - there is almost no difference in times and about 1km shorter for Fukiage-toge option!

Point info (Times are for a fast cyclist/trail runner)
Times don't include stops or sections off-circuit such as continuing on Tenmoku rindo beyond the top and back again. Actual total time was 8hr15.
| | | | | |
| --- | --- | --- | --- | --- |
| Location | km | Altitude | hr from start | Note |
| Ome station | 0 | 200m | 0hr |   |
| Kosawa-toge | 11.5 | 364m | 0hr30 | Kosawa tunnel |
| Arima fishing reception | 20.2 | 405m | 1hr05 |   |
| Arima-toge | 30.7 | 1150m | 2hr05 |   |
| Tenmoku rindo start | 41.7 | 450m | 2hr25 |   |
| Dirt road start | 42.7 | 510m | 2hr30 |   |
| Hike trail start | 57.5 | 1540m | 4hr40 | Tenmoku rindo peak 1 |
| Nanahane yama | 58.3 | 1651m | 5hr20 |   |
| Hike trail end | 60.3 | 1100m | 6hr | Ogawatani rindo join |
| Dirt road end | 66.3 | 700m | 6hr20 | Nippara caves |
| Nippara bus stop | 68.6 | 620m | 6hr25 |   |
| Okutama | 77.1 | 336m | 6hr50 |   |
| Ome station | 97.5 | 200m | 7hr30 |   |
Report:
2008/11/19 (Wed)
Left home @ 9:30am
Stopped @ Miyanohira 7/11 to get onigiri & bread.
................TBA................
Back home @17:45
Beside Arima dam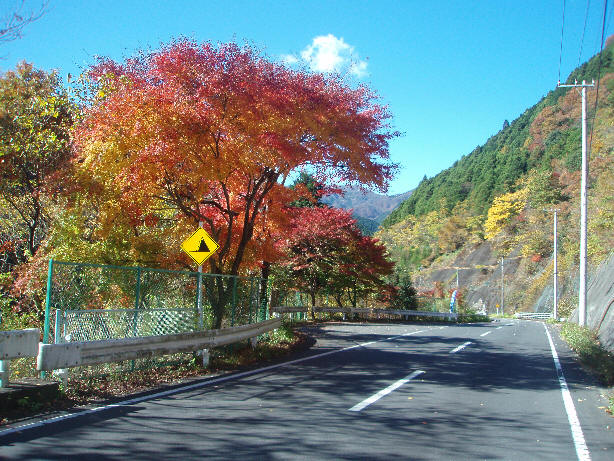 On the climb to Arima toge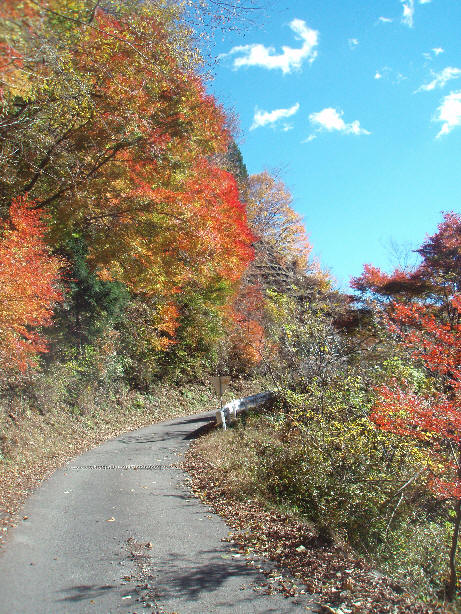 Looking back down the climb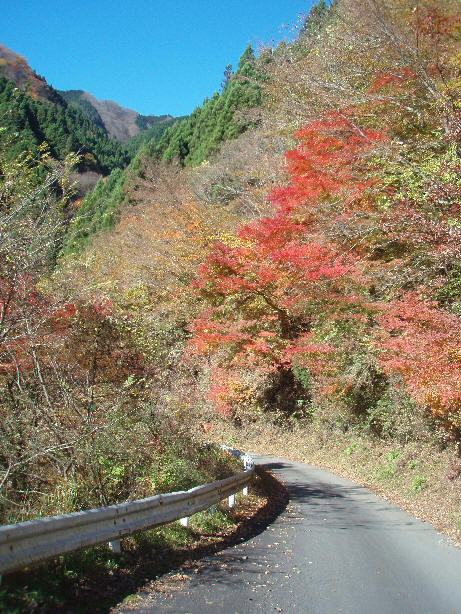 10km mark on Tenmoku rindo, 1175m (~1hr15 climb on Tenmoku rindo)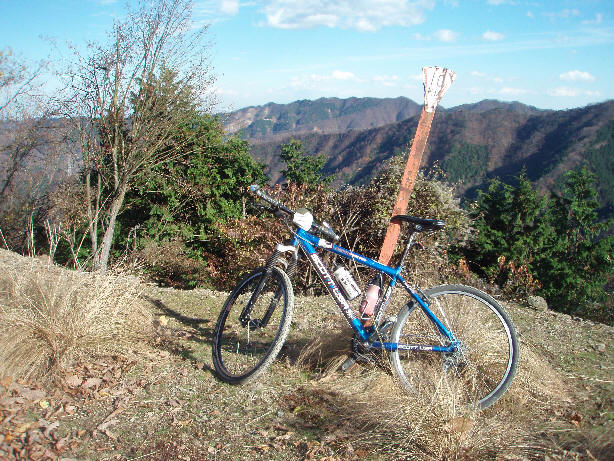 Some obstacles on the route.
The road condition deteriorates after passing road works just before the 12.5km mark.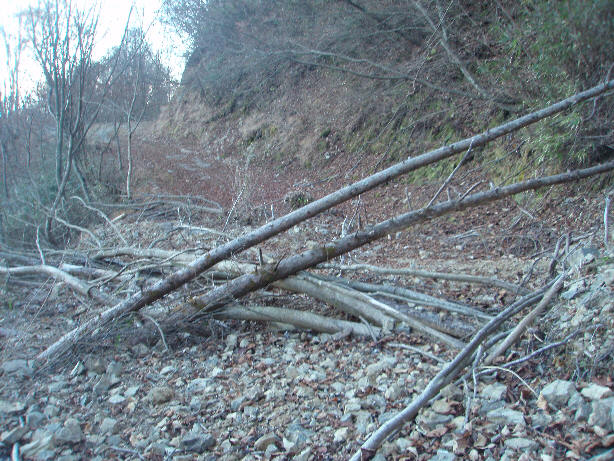 Carpet of leaves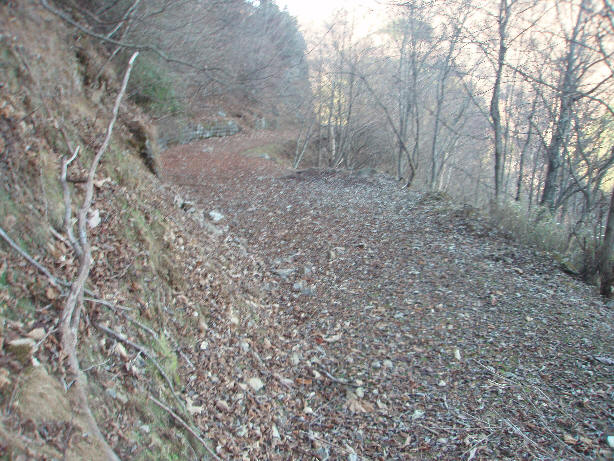 Landslide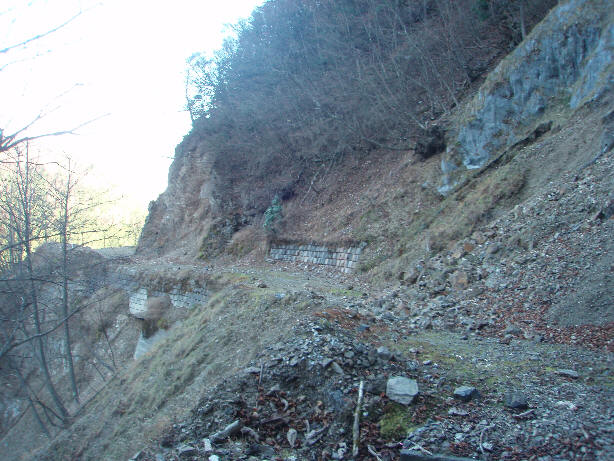 14km mark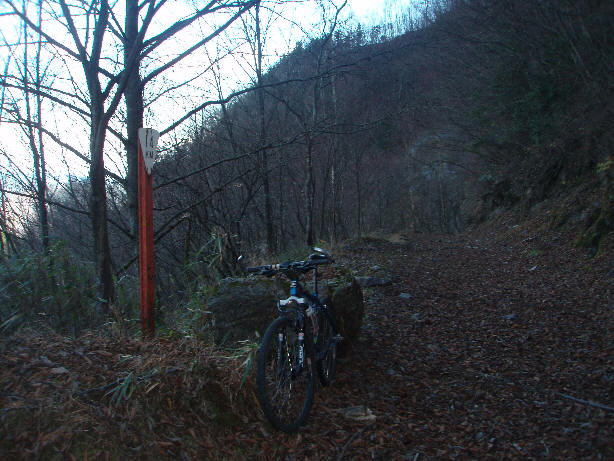 Start of trail to Nanahane yama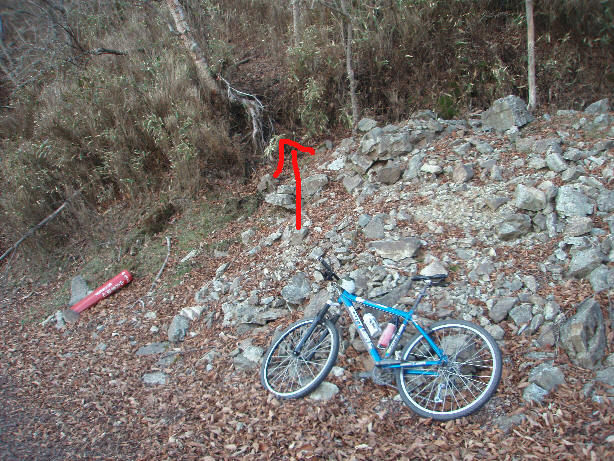 Same as above from another angle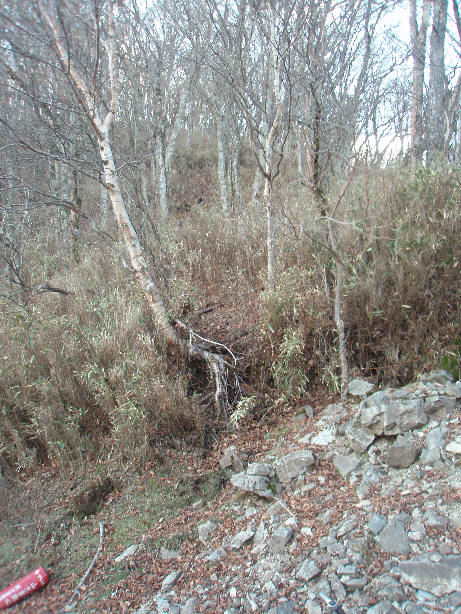 Nanahane yama top 1651m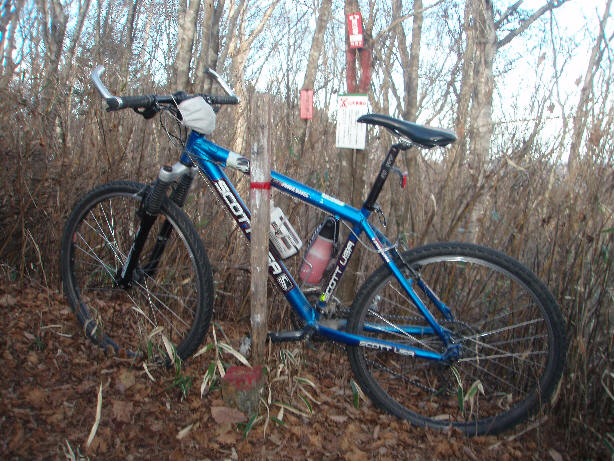 Shot of the descent, taken from the top of Nanahane..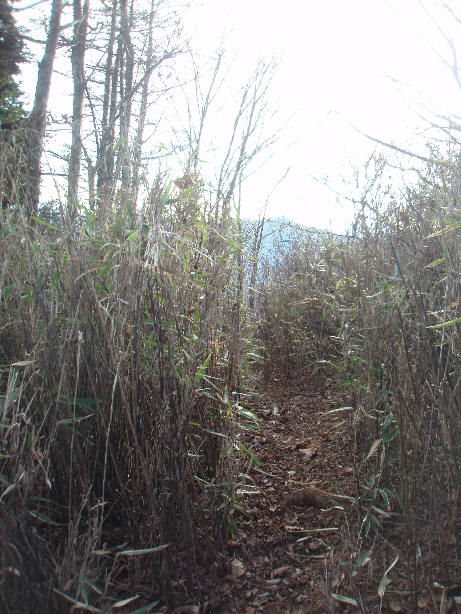 The turn for Nanahane ridge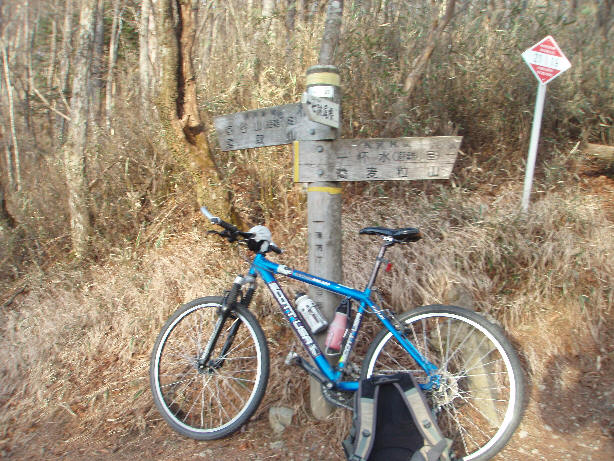 Switchback on Nanahane shoulder descent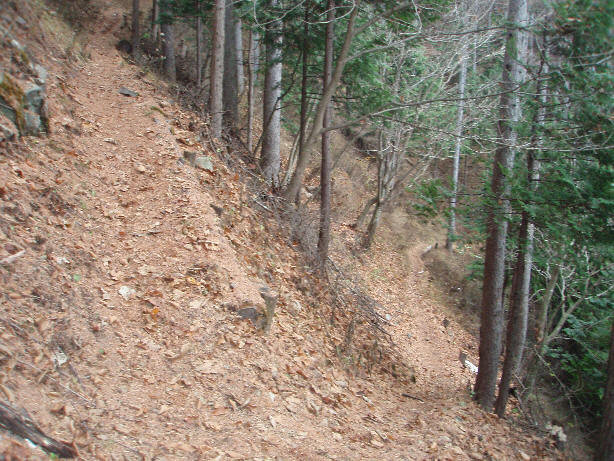 And another - there are about 35 more like these!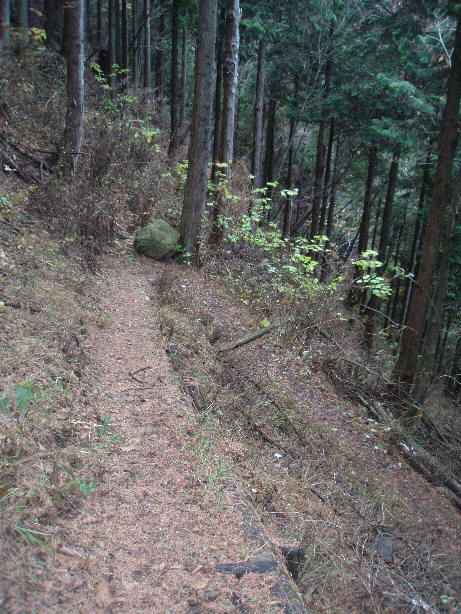 Ogawatani rindo - junction for Toritani yama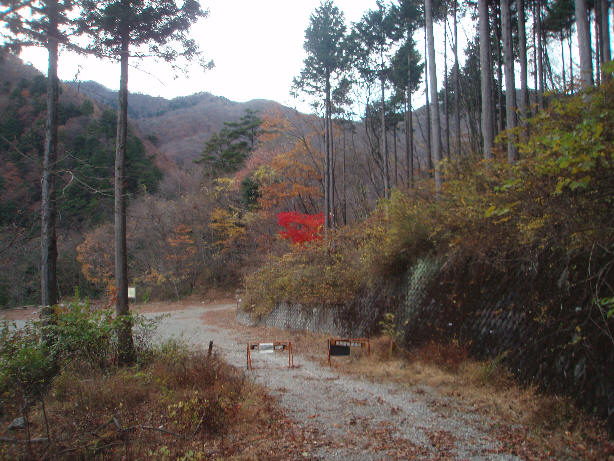 Ogawatani rindo - starting to get dark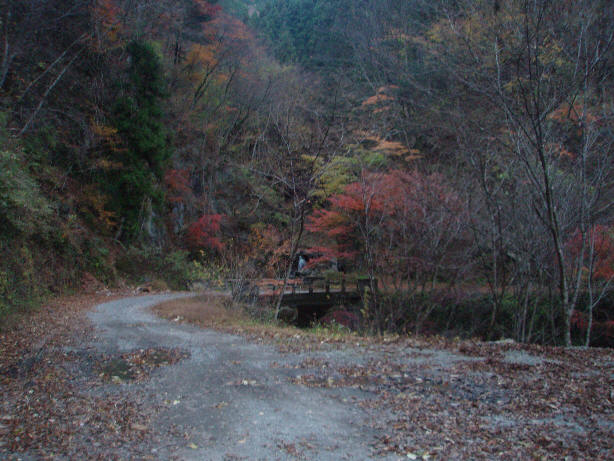 Near the dirt road end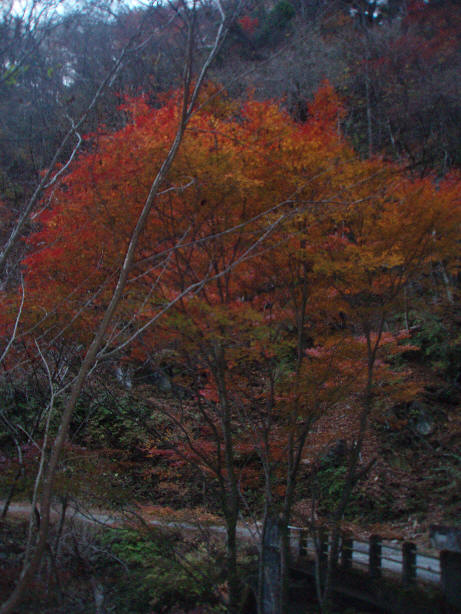 Made it to Nippara caves before dark.
The red leaves of the tree in foreground are spectacular - not clear from photo.