「風張峠2」 Kazahari circuit 2 (Kazahari rindo, Hinonara kaido) from Ome (81.5, 1660m climb, 3hr35)
The climb up Kazahari rindo is a much quieter but steeper climb than straight up Hinohara kaido. It pases a mushroom farm near the 1000m altitude mark. Traffic cannot pass through this route but the surface is very good in general. See 「風張峠1」 Kazahari circuit 1 (Kazahari rindo, Okutama) for an alternative descent down to Okutama-ko and back to Ome via Ome kaido.
See Fujikura - Kazahari-toge - Hinohara for GPS data (Garmin Edge 705) and map for this route.

Category: Road: 81.5km, steep climb.
Route: Ome, Umegaya pass, Itsukaichi, Fujiwara, Kazahari rindo, Hinohara kaido, Itsukaichi, Horse stable pass, Umegaya, Ome
Map:
TBA. In meantime, you can view the map from the GPS link above.
Profile: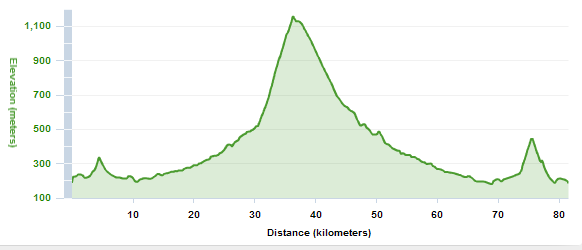 Notes:
TBA