The name Iona possibly comes from a misreading of Ioua insula, "the island of I or Io".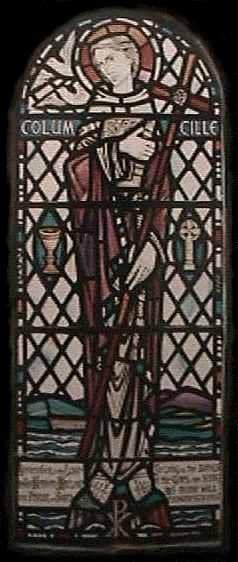 Other Links of Interest...
A beautiful set of pictures of Iona
The Iona Community have a Web Page at http://www.iona.org.uk/
You can contact the Iona Community at:
Glasgow
Community House
The Iona Community 4th Floor
Savoy House
140 Sauchiehall
St, Glasgow G2 3DH
Tex: 0141 332 6343
Fax: 0141 332 1090
Email: ionacomm at gla.iona.org.uk
Isle of Iona
Iona Abbey
Isle of Iona
Argll PA76 6SN
Tel: 06817-404
Fax: 06817-460
Email: ionacomm at ionamull.demon.co.uk
MacLeod Center
Isle of Iona
Argll PA76 6SN
Tel: 06817-404

Mull
Camas Center
Mull
PA76 6DX
Tel: 06817-367
Enquires through Iona Abbey

The Isle of Iona, in the Inner Hebredies, from ancient times has been a sacred place, an article in DALRIADA MAGAZINE (back in the days of Gopher) which said:
"[An] old Gael prophesied that Iona would never cease to be "the lamp of Faith", he also added that "Before this happens, Iona will be as it was, without the voice of a monk, under the dung of cows"
In 563 St. Columba landed on Iona and founded a monastery which became the centre of Celtic Christianity. Iona is said to have been the first place from where he could not see his homeland, Ireland. Missionaries from Iona preached to the Northern Picts and their influence spread far into Northern England.
Books about Iona
If you have visited or plan to visit Iona or would just like to know more about the history or geography of the island I strongly recommend that you get hold of the book "Iona" published in 1997 by E. Mairi MacArthur, one of the Colin Baxter Island Guide series. ISBN 1-900455-11-0.
Beautiful photography coupled with a rock by rock, hill by hill history of the Island and it's people over the last 6000 years.
The Iona Community
The Iona Community is described by their own publication Coracle like this:
"The Iona Community is an ecumenical Christian community, founded in 1938 by the late George MacLeod of Fuinary. Gathered around the rebuilding of the ancient monastic buildings of Iona Abbey, the community has sought ever since the "rebuilding of the common life", bringing together work and worship, prayer and politics, the sacred and the secular. The community today is a movement of some 200 members, 1200 associates and 2000 friends. The members, men and women from many backgrounds, countries and denominations are committed to a rule of daily prayer and Bible study, sharing and accounting for their use of time and money, regular meeting, and action for justice and peace

The Iona community maintains three centres on Iona, Mull, and it's base in Community House Glasgow, which also supports the work with young people, the Wild Goose Worship and Resource Group, and a publishing house Wild Goose Publications."
News from Giles David formerly on Iona
I was contacted by Giles David dpvintin@acpub.duke.edu
Who wrote:
I lived and worked [on Iona] for three years with the Iona Community, and now work in the US as a liturgist, hymn writer, and workshop leader.

My homepage is under construction at present, but I think my web manager has put about six or so recent hymns on it, to start the page off.

Perhaps if you have time, you might like to check them out, as I also see you're interested in material written within a Celtic style. I own the copyright to all my material, but am always delighted when people use any of it on a one-off non-commercial basis anywhere.

Here's a recent responsorial prayer from my collection: