QUOTES
See Dave!!!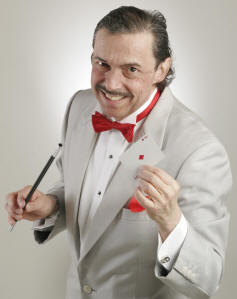 Your Next Event Can Be Amazing!
Promotional events, sales meetings, new product launches,
trade fairs, meet & greets
There is no magic trick to enhancing the effectiveness of your corporate functions
-you only need to invest in an appearance by magician Dave Letendre to speed-up
interaction among attendees and strengthen your brand name and corporate mission .
With over two decades of performing to Japanese and international audiences,
Dave knows how to make your event memorable.
Performances in English and Japanese.
Stunning & Amazing professional magic performed with coins,
paper money, finger rings, playing cards, lengths of rope, and even
using your company logo or message
* strolling close-up and table-side magic entertainment
continuous for the duration of your event
* an impressive 15-20 minute platform show for small
audiences
* workshops for salesmen that teach how to put
magic into presentations
Dave has a wonderful large scale show for department stores, shopping centers,
and trade fairs. It includes magic, comedy, audience participation and balloon sculptures.
(see Balloon Magic page)
ALSO: Wedding party entertainment