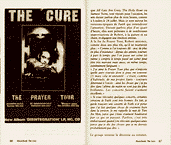 Click the pictures to see their larger versions.
[cover: 29K, double-page: 22K]


French edition printed in black and white. It includes the biography and discography of The Cure.
Its biography mentions some new information, such as the Robert's appearance in the Bowie's birthday concert, the release of "Five Swing Live" and even the film "Carreer Girls" with The Cure songs in several scenes.