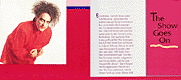 Click the pictures to see their larger versions.
[cover: 18K, double-page: 44K]



German edition, the size of CD. Includes biography and discography. It is composed of six chapters. The first chapter (The Show Goes On) describes briefly the Detroit gig in the Show video and The Cure's history. The second chapter (The beginning is hard), the third (The cult begins) and the forth (Success and troubles) tell the story about The Cure's early years. The fifth chapter (New experiments) tells the story from the album Kiss Me Kiss Me Kiss Me, 1987 to Entreat, 1990. And then the last chapter (The dreams came true) describes the plan of Robert's solo album, MTV Unplugged and the album Wish. This book has lots of pictures and all pages are so colourful.


Special thanks to Mr. Andreas Ott for interesting information on the book.