Italian edition. It's a very small book printed in black and white. Contains biography and discography of The Cure with some pictures.
Although its title doesn't mention it, one-third of the book has nothing to do with The Cure but "New Wave". Lots of albums of so-called "New Wave" bands are even listed in it. It seems odd to see the explanation of the album "Quiet Life" by JAPAN in the book titled "THE CURE"...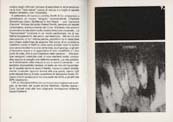 Click the cover of the book or here to see its larger version[18K].