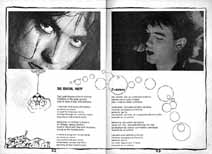 Click the pictures to see their larger versions.
[cover: 26K / double-page: 33K]



Spanish edition printed in black and white. Includes a short biography and lyrics written in both English and Spanish. Those lyrics are arranged in the albums from "Three Imaginary boys" to "Kiss Me, Kiss Me, Kiss Me".
The book also has lots of familiar pictures of The Cure and unique illustrations of several odd creatures. Those illustrations make the book being funny look.


Special thanks to Mr. Wilson Simon of "The Cure A Fanzine" in Brazil.